Keychain Pepper Spray
This personal pepper spray fits on your keychain so you will always take it with you. It is a 1/2 ounce (15 grams) pepper spray with a Quick Key Release key chain and locking actuator. Effective up to 8 feet. Contains 5 one-second bursts.
Keychain Pepper Spray
Pepper Shot Pepper Spray is made with 1.2% Major Capsaicinoids. The Major Capsaicinoids are the true heat measure and Pepper Shot 1.2% MC is more effective than most other pepper sprays.
In addition to causing an attacker pain, Pepper Shot pepper spray swells the mucous membranes, which makes breathing difficult, and swells the veins in the eyes, causing the eyes to close.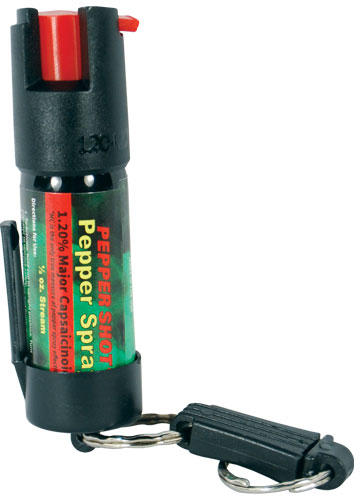 These effects last up to 45 minutes and cause no permanent damage.
Some states have restrictions on Pepper Sprays. Check if your state has restrictions here: Shipping Restrictions
Safety and Shopping with a Keychain Pepper Spray
Have you ever planned a day of fun-filled shopping, and the time just got away from you? You arrive at the mall early in the afternoon, park in the parking garage, and by the time you are done shopping, it is dark outside.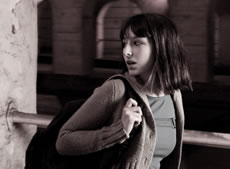 The mall is not so crowded anymore since many of the people have gone home for the day – and the parking garage is uncomfortably empty. You are heading back to the car and it is quiet and uneasy.
You are anxious to get to your car …it's hard not to feel like there is someone following you. There is nothing scarier than what you are imagining that could happen to you as you walk to your car.
You hear it in the news all the time: "woman attacked in parking garage". This is when you have your hand wrapped around your pepper spray…which you always have attached to your key ring.
With a pepper spray keychain, you will have plenty of time to get away from an attacker. Feel even safer knowing that the police have a chance to catch and identify the assailant – since your pepper spray contains a non-toxic vegetable dye! This dye can positively identify someone whom you have sprayed and the attacker won't be able to say it wasn't them.
Protect yourself from would-be attackers. Feel more secure as you walk to your car with a keychain pepper spray. We also suggest our Mace Keychain – very popular, and it is one of the best pepper sprays available on the market today.