Stun Master Hot Shot Stun Gun Flashlight 90 Million Volts
No one will even notice, because the Stun Master Hot Shot, at only 4 inches long, looks almost like a power bank or another handheld device.
With a dazzling 90 million volts of power backing it up, this high-intensity shocker has the effect of a baseball bat, combined with the element of surprise. A short blast from this almost invisible personal and powerful protection device will give anyone silly enough to attack you an exclusive muscle massage that will leave them drooling.
Hot Shot Stun Gun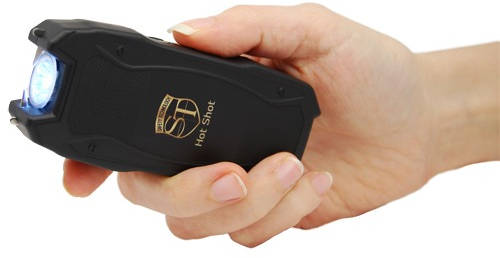 This uniquely designed stun gun is equipped with an LED flashlight, battery meter, safety switch, and an illuminated red light that tells you it's ready to unleash pain on your attacker. The built-in rechargeable battery is charged using the included USB cable.
The Hot Shot taser uses a new cutting-edge micro-technology to deliver super-powered protection.
You can carry the Hot Shot in your hand or pocket. It also has a rubberized coating for a better grip. This coating allows you to really feel the stun gun in your hand and won't slip.
If you would like to wear it like a cell phone there is a heavy-duty nylon belt loop holster included.
High-Frequency Oscillation Circuit Doubles the Power
4.8 milliamps depending on the freshness of the batteries

90,000,000 volts

Rechargeable

Nylon Belt Loop Holster

Rubberized Coating

Battery Indicator

Measures 4" x 1 3/4" x 7/8"

Built-in 100 Lumens LED Flashlight

LIFETIME WARRANTY