Handcuffs
All around the world, security guards and police officers are switching from cheap handcuffs to more durable, nickel plated steel ones. These restraining devices are high-quality steel. All models, including the hinged cuffs, have a double lock feature which allows you to also keep them from tightening after you've locked them in place.
Features:
Design: Double Locking to help prevent tampering
Locking Feature: Pushpin to lock cuffs in place and prevent over tightening
Durable: Nickel Plated Solid Stainless Steel for maximum durability and reinforcement.
Two Keys: Never worry about misplacing your key because you have a spare.
Lifetime Warranty: The Streetwise Nickel Plated Handcuffs are made in Taiwan using the highest quality components and come with a lifetime warranty. See instructions for complete details.
Contents:
1 Set of Steel Handcuffs
2 Keys
Instructions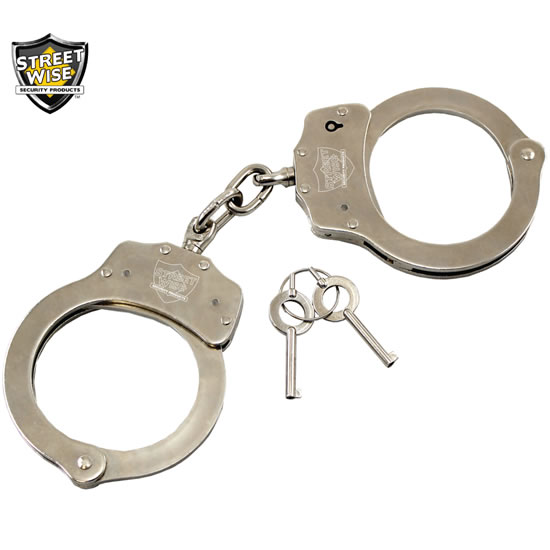 Buying Handcuffs? Choosing Top Quality
You might think that wrist restraints are all the same. However, there are some that are better purchases than others. For your money, security and safety, there are quality concerns you should keep in mind when choosing a set. Not all are the same, which means you need to choose carefully if you want to get your money's worth. Here are some tips you might want to consider when buying handcuffs:
What are handcuffs?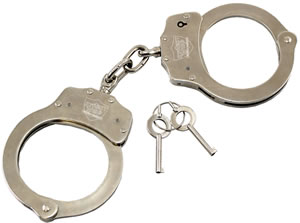 Handcuffs are ring-shaped restraints that are used to lock the wrists together or at least to keep them close in front of or behind the body. Most are made from metal, although there are models that have a slightly different design that are made from tough plastic. These come in disposable strips that are commonly known as 'plasticuffs', which are now being used by many personnel in law enforcement.
The point of the restraint is to control the movements of a person and prevent him from running away. Since people need their hands and arms for balance and momentum, restraining devices limit their ability to run fast or to hit with more force. They can also be used to restrain a person in one location.
Determine the use of the 'cuffs
They are used by security guards, police officers, and other law enforcement individuals and are designed to restrain. The last thing you want to have is a pair that can be easily picked open using a simple paperclip or hairpin. When choosing quality handcuffs, check the locking mechanism. If you want to control a person, make sure that they can only be unlocked by its keys. Buy a pair that comes with two keys, so you have a spare.
Look for good quality material
Police issue handcuffs are made from materials such as stainless steel, aluminum or carbon steel. If you want to go for brand name, buy a pair made by Smith & Wesson, Chicago Handcuff Co, Streetwise, or Police Force among others.
There are also good quality sets from generic brands. These are usually nickel coated/plated, which should afford you a few years of good use before the plating starts to chip. Lower quality models are also cheaper than good quality ones.
Lockable
Handcuffs are designed to be unlocked by a key. The best ones are those that are not easily unlocked by other means. Many sets being sold today come with double locks for extra security. This makes it difficult for the restrained person to easily open them and escape.
Check tightness
Handcuffs are designed to tighten around the wrists. What makes them unique from other common forms of restraint is that once they have tightened, it will be difficult to loosen them, ensuring that the person will not be able to free himself without the use of a key.
The problem with certain designs, particularly those that were in use some years ago, is that there was no control to prevent them from tightening around the wrist too much. These models can often cause problems if an individual moves too much when restrained or if the cuffs were put on too tightly.
When choosing quality handcuffs, look for a model that has a double locking mechanism, such as the set at the top of this page. The double lock is a built-in mechanism that prevents the wrist bracelets from tightening around the wrist. This is important, particularly if you're trying to prevent or avoid injuries.
Plastic, anyone?
Lately, law enforcement officers have been using plastic handcuffs. These are quite effective as restraints because they can be tightened and held securely. Plastics are convenient for certain situations because they are easy to carry, conceal and use, particularly if there are several individuals that have to be arrested or restrained.
Buying handcuffs is not a difficult choice. Get quality handcuffs that are NIJ approved.