Electronic Dog Repeller
The Ultrasonic Dog Repeller is the most humane and safe way to deter unfriendly dogs. Using the latest ultrasonic technology, this portable repellent produces a discomforting but not harmful, high-frequency sound (35,000Hz-45,000Hz), audible to canines but not so much to humans.
They will "hate" this sound, and it will make them get away from you...fast!
Easy to use: Just point the animal repeller at the approaching animal and press the button. You can also buy Dog Pepper Spray which is another excellent option.
Easy as Point and Press!
This is also ideal for the avid jogger, who might sometimes come in contact with a scary four-legged stranger. We all know that when it comes to most dogs, their bark is worse than their bite. While most might not be planning on getting physical, one push of the button and they simply get scared away by an annoying light and sound combination. However, it does not cause any harm whatsoever to the pooch.
It can also be used as a flashlight, which is helpful before sunrise and after sunset, or even in a dark garage or basement.
And if you're looking for something with a little more Ooomph to it, we recommend a dog stun baton.
This dog deterrent is also a useful training device when used in conjunction with the verbal or hand command. It can be used as an anti-barking device for bark control.
The Ultrasonic Dog Repeller is a safe and reliable item to own. You can have faith during your morning walks, jogs, or runs again. No need to fear checking your mail or taking your trash out again either. Check out our blog post on 5 reasons to get a dog repeller.
Dog Repeller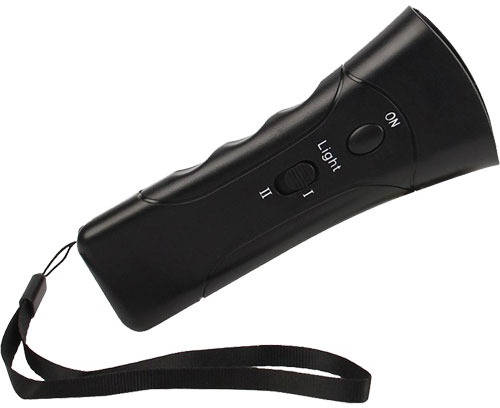 Keep those unfriendly dogs out of your way!
This is one of our most popular items and continues to receive praise because of its reliability, affordability, and small size. Using one 9V alkaline battery, it emits a high-frequency sound that safely deters any canine.
If you are afraid of hurting animals, or due to local laws, cannot use a different self defense item to stop an animal, this is the item you want! It causes NO permanent damage to the animal and is easy to operate. It sits well with animal lovers, but also has the power to make a jogger's route safe and enjoyable again.
Never be afraid to take that relaxing jog or solo run again! It creates an invisible shield without hurting the animal itself.
Certain "no leash" laws in a few states can protect some potentially dangerous canines from an innocent jogger's defense. Never worry about that problem again! This effective device is legal to carry and can prevent you from being hurt without having to deal with the legal ramifications of an angry owner.
Dog Repellent Trainer
Another positive addition to the repelled product is that it can be used as a training device. In coordination with hand signals or spoken commands, it can help reinforce what you are trying to teach. 
Dog training is the process of teaching a dog to perform or stop certain behaviors on command. As a dog trainer, changing unwanted behavior just got a whole lot easier with one of these devices.
Approximate Dimensions: 13.7 x 5.5 x 2.5 cm
What is an Ultrasonic Dog Repeller?
An ultrasonic dog repeller is a device that's designed to emit a low-intensity but a high-pitch sound wave that is intended to deter dogs from barking or approaching. The noise is usually inaudible to humans as it is outside our hearing range, but it can be irritating to dogs. Works on a cat too!
The ultrasonic repeller emits a frequency ranged from 35,000 Hz to 45,000 Hz intervally which is hardly audible by humans but can be heard by dogs or cats. It may harmlessly deter the approach when properly operated. The device will project these ultrasonic waves as you continuously press the power button and directly point the device toward the approaching offender.
Electronic Repeller
Note from TBO-TECH: Our number one question on this electronic repeller is "Does it work?" Our response is "yes, it does." However, it is not guaranteed to turn away every dog. Your pet, or one who knows and trusts you, may not be repelled by the discomforting sound. Deaf, rabid, or especially ferocious ones may not be affected by the sound.