Barking Dog Alarm – Tough Enough to Scare Bears Away
Having a guard dog will definitely let you enjoy better sleep at night because you know you can trust it to keep you safe. But what if you can't afford its upkeep? What if you're allergic to dogs? If there's something that prevents you from getting a watchdog, why not use the next best thing with the outdoor barking dog alarm?
Outdoor Barking Dog Alarm
Upon installation and, if any other accompanying devices, the alarm will then produce realistic barking sounds when its motion sensors detect movement.
The Different Features
Depending on which model you choose, your fake dog barking alarm may have one or a combination of the features listed below.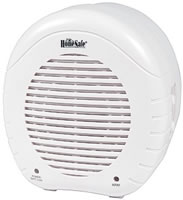 Remote Control
Some come with a remote control keychain. You can use this to activate the alarm even if motion hasn't been detected. For maximum protection, be aware of its working range.
Increasingly Realistic Response
Detected movements will immediately trigger the alarm. As the intruder comes closer, your alarm will produce louder and angrier barks, just like how any normal guard dog would react to an aggressive threat.
Lights & Sirens
It may be packaged into an all-in-one home security system. This would include outdoor motion sensors and a light module. When motion is detected by the system's sensors, it can be programmed to simultaneously activate both your barking and its other sensors.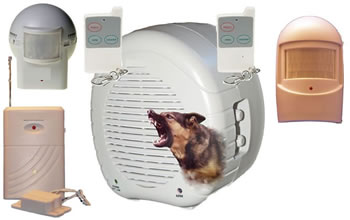 Having a light and/or a siren turn on will help convince burglars that someone is awake and aware of their presence – even if your home is currently unoccupied.
Multiple Functions
These alarms may also be programmed to serve other functions. During the day, you can program it to work as a doorbell or chime. Instead of an angry German Shepard barking, you could set it to serve as an alert every time you have a visitor approaching.
Maximum Protection with Barking Dog Alarms
It's important to remember that your barking dog alarms are effective because they convince potential thieves that you own tough guard dogs. This is not true, naturally, but it's a deception you should try to maintain even during the daytime. Consider displaying other things like having a dog cage in your yard. Or maybe other dog supplies like a feeding bowl sitting on the porch.
Scares Away Bears
The sound of an unseen canine will even make a bear think twice about continuing its advance. It knows it's up against something but doesn't know where it's coming from. Bears don't like the dog sound especially when they can't see it and will generally find an easier score.
You can get one of these Electronic Watchdogs for only $99.00.
Check out more blog entries or shop our best sellers. Blog readers get 10% off! Use promo code: blog10 during check-out.