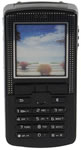 The PRETENDER 4,500,000 volt Cell Phone Stun Gun pretends to be a camera cell phone, but it's not. It's a powerful 4.5 Million volt stun gun. This baby will really give you the edge since an attacker will think you are just carrying a cell phone. It also has a very bright built-in 12 LED flashlight.
Mobile Phone Stun Gun
Choose from battery operated or rechargeable models, both available in Black or Pink.
Discrete Protection: This is one of the most realistic looking cellphone stunguns on the market today. It will provide you with the element of surprise if you need to defend yourself.

Powerful: At 4.5M volts, this is one of the highest voltage stun guns available. Just test firing this unit into the air is often enough to stop an attacker. As the bright electric current pulsates across the top of the unit, it creates an intimidating electrical sound. An attacker with any sense at all will be stopped in his tracks. If the sight and sound doesn't stop him, a jolt from this stun gun certainly will.
To prevent accidental discharge, two levels of safety have been built in. The safety switch must be in the on position (this will cause an LED warning light to come on) and the trigger button pressed before the unit will operate.
Rechargeable model comes with recharger cord. Battery operated requires three (3) CR2 batteries which are included FREE ($12.00 value). FREE holster also included for both rechargeable and battery operated models. Only 3.8 inches tall.
Why is the Pretender Cellphone Stungun so effective?
An electro shock weapon does not work in the same way as other weapons. Traditionally weapons were meant to kill the person they were used on. However, that old textbook definition has been thrown out the window. Modern self defense weapons, such as this, now serve a wide variety of functions. They are meant to incapacitate. This way, the person being stunned is hurt but not killed, and allowing you the opportunity to get away.

How Cellphone Stun Guns Work
The body functions through electric signals that come from the brain. The muscles in the human body translate these electrical signals as movement. Based on knowledge of the human body, these devices work by shocking its target with high-voltage low-current electricity.
Anyone who has ever been shocked can attest to an uncontrollable tingling sensation in their bodies. This sensation is what makes these devices such an ideal form of self defense. Normally the sensation is manageable, but a high-voltage low-frequency electric current will leave even a grown man squirming on the floor. Makes a great tool for incapacitating a target.
Pretender 4,500,000
Features:

4,500,000 volts


Bright 12 LED Flashlight


Available in Pink or Black


Rechargeable or Battery Operated Models


FREE Leatherette Holster with Belt Clip ($10.00 value)
Does Not Work as a Cell phone, only a Stun gun :)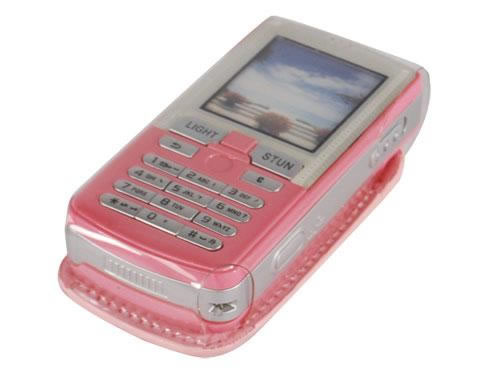 Some states have restrictions on Stun Devices. Check if your state has restrictions here: Shipping Restrictions
Customers Who Purchased This Item Also Bought
Shipping Deal


Receive FREE UPS Ground or US Mail shipping on all orders of $75.00 and up!
*US Residents only
Join Our Mailing List
We send out Specials and Discounts to those on our mailing list.
Your privacy is kept safe.