Stun Gun Sale Today! Order Now and Get 10% off any stunning device!
Plus...Get a Free Pepper Spray with your Order!

---
KNUCKLE BLASTER is a 950,000 volt stun gun designed to give you a punch with power!
This unique stun device covers your knuckles and is easy to grip. The Knuckle Blaster Stun Gun can not be easily taken from you since you have it gripped in your own fist. If someone does try to take it, you will very easily be able to shock them. With a normal defensive posture, you are ready to defend yourself.
With just a touch to your attacker, you instantly repel them. Longer contact will cause further disorientation and after some seconds may drop them to their knees. Hold it on them for as long as possible!
This patented stun knuckles device has a soft rubber skin and is sized to accommodate all hand sizes. It's also ambidextrous so you can use your left or your right hand to use this device.
A safety switch is built in and accessible with your thumb. Once you grab the Knuckle Blaster stun gun you can flip off the safety and fire with the same hand. No need to use two hands.
Uses 2 CR123A Lithium batteries (included).
FREE nylon belt holster ($15.00 Value) designed to allow quick access and deployment of this amazing stun weapon.
Knuckle Blaster Stun Gun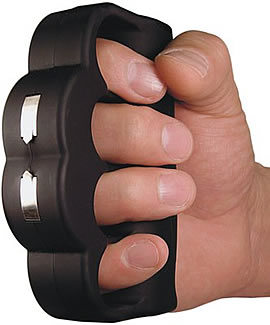 The metal contacts at the front of the stungun.
Some states have restrictions on Stun Devices. Check if your state has restrictions here: Shipping Restrictions


All orders are shipped within 1-2 business days by the method of shipping chosen when checking out. Please read our Shipping Policy for full details.
Be assured that your shopping experience is completely safe. The order site is secured using a SSL Web Server Certificate which encrypts all data to and from the site. You can be assured of the security of your information to buy or purchase with confidence.
Free Shipping


Get FREE Standard Shipping if your order is over $49.00!
*US Residents only