Like a Mini Pack of Powerful Lightning Bolts!
You can now pack 11 million volts of self protection on your hip. No one will even notice, because the Stun Master Hot Shot stun gun looks almost like a Blackberry, or other hand held mobile device.
A short blast from this almost invisible personal and powerful protection device will give anyone silly enough to attack you an exclusive muscle massage that will render them incapable of managing much more than drooling for about five to ten minutes.
The difference with this device is the placement of the button on the face of the unit instead of on the side where most reside. This is a neat little option which really depends on your personal preference. If you were to hold this toward someone and give them a warning discharge, you'd look very in control. If they want to test you, then you can give them the full Monty.
Shove it in their neck, their side, groin or anywhere you are able and let them get several seconds of debilitating electrical waves overtaking their ability to voluntarily use their muscles. The longer you hold it on them, the more effective it is.
Palm Sized Mini Stun Device
With a dazzling 11,000,000 volts, the Hot Shot stun gun has the power of Mickey Mantle's bat, combined with the element of surprise. This palm sized mini stungun sits on your hip till you're ready to take it out and defend yourself.
A sleekly designed super stopper that is equipped with a safety switch and an illuminated red light that tells you it's ready to unleash hell on your aggressor. It's a real hotshot!
Comes with three lithium batteries and detachable stainless steel belt clip. "Best Quality/Best buy." Order yours today!

Some states have restrictions on Stun Devices. Check if your state has restrictions here: Shipping Restrictions
Hot Shot Stun Gun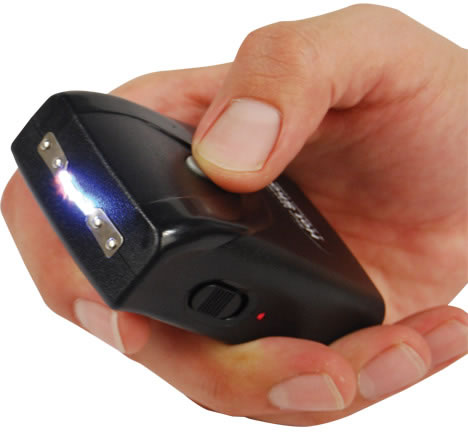 Only 3" tall

11,000,000 volts

FREE Stainless Steel Belt Clip

Life Time Warranty (yep, quits working, we replace it.)
Comes with FREE batteries and belt clip
Shipping Deal


Receive FREE UPS Ground or US Mail shipping on all orders of $75.00 and up!
*US Residents only
Join Our Mailing List
We send out Specials and Discounts to those on our mailing list.
Your privacy is kept safe.