Most security products on the market today will only alert you after an intruder has entered. This device will not only activate an alarm but will prevent unwanted intruders from entering.
Door Wedge Alarm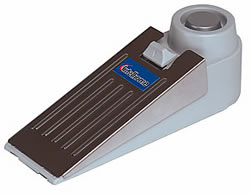 If an intruder attempts to enter, the door stop alarm will sound and the unit will wedge underneath the door.
The wedge shaped design and non-skid pad on the bottom of the door alarm will hold the door tighter the harder it is pushed.
They might pick your lock but they can not get inside your hotel room, apartment, or home when secured by the Super Door Stop Alarm.
Instructions - Place the door alarm on the floor below the door knob with the low end of the unit under the door. If the door is opened it will strike the metal plate, preventing the door from being opened and the 115db alarm will activate.
The Super Door Stop Alarm is also equipped with a movement sensor which will activate the alarm if the unit is moved. A sensitivity switch allows you to adjust the amount of movement required to set off the door stop alarm. Unit operates with a 9-volt battery. Battery not included.
Features:
Prevents a door from opening and immediately activates an alarm.
Wedge shaped design prevents an intruder from entering your home or hotel room.
The 115db alarm will scare away an intruder, alert those inside, and summon help.
Portable door security for your peace of mind while traveling.
No installation required.
Approximate Dimensions: 6 3/8" x 1 3/4"
You may also be interested in these Home Protection
Shipping Deal


Receive FREE UPS Ground or US Mail shipping on all orders of $75.00 and up!
*US Residents only
Join Our Mailing List
We send out Specials and Discounts to those on our mailing list.
Your privacy is kept safe.