The dual function door security bar is a strong 20 gauge steel adjustable door brace that installs easily under the door knob and provides added security for your home, business or college dorm room. Adjustable from 30-46 inches.

The Door Brace Prevents the Door from Opening
The steel bar adjusts to fit most hinged doors and one of the rubber end caps can be removed to allow for use on sliding glass doors as well. Clean, baked enamel finish makes this attractive for in-house use.
This door brace is also an effective door locking mechanism you can use while traveling. With the device in place, you don't have to worry about someone opening your door even if they have a key.
Ever been to a motel and all of the sudden you hear someone trying to get in? The desk clerk assigns your room to someone else and gives them a key as well!
They won't get in with the door jammer preventing it. Gives you time to call the front desk or the police if necessary.
Ideal for Home, Dormitory, & More
Rugged 20-Gauge Steel Construction
Works on Hinged Doors

Adjusts to Fit Most Standard Doors
Collapsible, Easy-To-Store Design
Works on Sliding Doors
Door Security Bar
This is an extra layer of protection and security and is useful for just about any entryway. It can make you not only "feel" safer but actually "be" safer. It would take an awful lot to break in with one of these in place and in doing so would cause an awful lot of noise.
You would have plenty of warning to call the police and arm yourself before they actually got in.
Mace Door Jammers provide added security against forced entry from intruders. The Mace Big Jammer Door Security Brace is ideal for home, apartment, dorm, and office use. The Big Jammer is adjustable to fit most hinged in-swing doors and installs easily by wedging under the door knob to prevent the forced opening of a door.
The rubber end caps can be removed and the brace quickly adapted for securing sliding glass doors. The Big Jammer is collapsible and easy to store, making it portable and a great choice for motel travelers. Stay safe with a Mace Door Jammer... Do-It-Yourself Home Protection!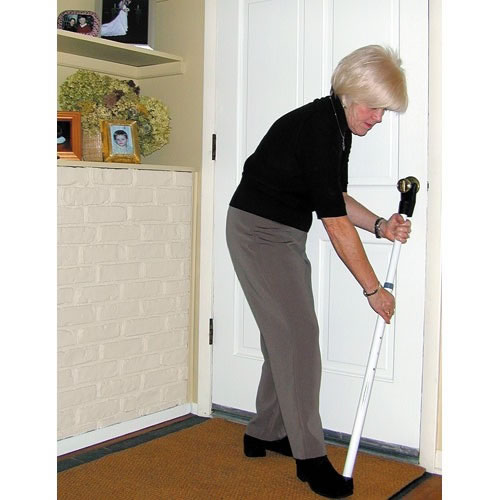 Customers Who Purchased This Item Also Bought
Shipping Deal


Receive FREE UPS Ground or US Mail shipping on all orders of $75.00 and up!
*US Residents only
Join Our Mailing List
We send out Specials and Discounts to those on our mailing list.
Your privacy is kept safe.