This door knob alarm is a dual purpose 120db alarm. It acts as a both a burglar alarm and a personal alarm. Hang it on any metal door knob and it instantly and automatically sounds when an intruder touches the door knob.
If someone touches the door knob, this alarm will blast away!
Excellent sleepwalker alarm. Hang on the door and if the sleepwalker grabs the door knob, the alarm will sound.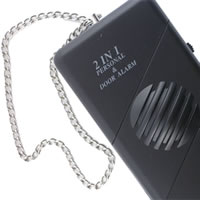 Carry it with you and just pull out the metal chain to sound the alarm and deter an assailant.
The 2-in-1 door knob alarm may be placed in hand, pocket, or handbag with the attached metal chain wrapped around the wrist so that if the user is being attacked, or the handbag snatched, the metal chain is pulled out and the alarm is activated.
The loud piercing siren will continue sounding until the metal chain is plugged back in. Uses one 9-volt battery (not included).
Sounds instantly when an intruder touches the door knob
120db
No wiring needed
Installs in seconds
Operates on all metal door knobs
Does not work on metal doors. If you need one for a metal door, try this one.
Door Knob Alarm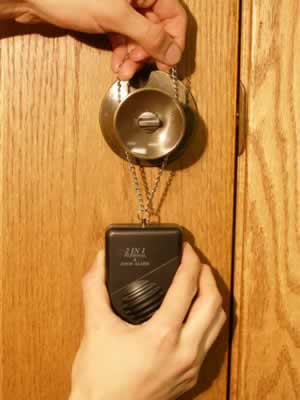 Customers Who Purchased This Item Also Bought
Shipping Deal


Receive FREE UPS Ground or US Mail shipping on all orders of $75.00 and up!
*US Residents only
Join Our Mailing List
We send out Specials and Discounts to those on our mailing list.
Your privacy is kept safe.