So you've locked yourself out of your house and you don't have your keys. What do you do? You reach down and pick up a rock that you've strategically placed. You take out your key and let yourself in. Problem solved!
This stone safe key hider is a realistic looking rock that contains a secret compartment just right for hiding a key or another small object. Blends right in and can save you time and frustration. Just about anyone can use this diversion safe since rocks are everywhere. How out of place would a rock look outside?
Hide a key in rock - the out-in-the-open hiding space. A fake rock for hiding a key.
Rock Safe
Looks like a rock, but hides a key.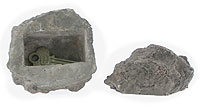 Are you hiding a spare house key under your door mat or under a flower pot on the front porch? This is the first place thieves will look to gain access to your home. With the Rock Hide a Key you will never be locked out again. Only you and your family members will know the secret place where your key is hidden.
Customers Who Purchased This Item Also Bought
Shipping Deal


Receive FREE UPS Ground or US Mail shipping on all orders of $75.00 and up!
*US Residents only
Join Our Mailing List
We send out Specials and Discounts to those on our mailing list.
Your privacy is kept safe.