Wrist braced slingshot folds down to a compact size and can launch your ammo out to a 100 yards. Of course, for practical target shooting purposes, you won't be trying to hit anything that far out but the energy released with this is powerful. This pocket sized sling shot is a high impact weapon. It has a lightweight aluminum frame and split leather pouch.
This slingshot is perfect for vermin control or for just having fun.
A sling shot is a good addition to your survival kit. Besides it's hunting attribute, a sling shot can also provide a recreational activity that can keep you from getting bored awaiting rescue during downtime.
Explosive Power with the Accuracy to Back it Up!
Slingshots are loads of fun. In no time at all, you be able to hit your target every shot. Paintballs, steelie shot, and extra sling shot bands with ammo are also available.
---
High Velocity Folding Slingshot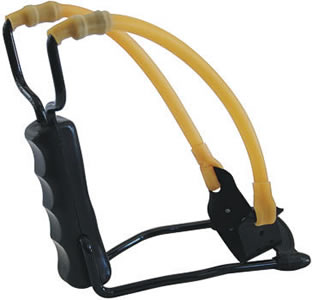 Folding Wrist Lock
Surgical Latex Power Bands
Firm Positive Grip for Steady Aim and Superior Accuracy
Customers Who Purchased This Item Also Bought
Shipping Deal


Receive FREE UPS Ground or US Mail shipping on all orders of $75.00 and up!
*US Residents only
Join Our Mailing List
We send out Specials and Discounts to those on our mailing list.
Your privacy is kept safe.