This dome surveillance dummy camera looks just like the real thing. It is made from a real camera housing but without the camera. The dummy dome camera features a flashing LED and metal mounting bracket. Installs easily using stainless steel screws.
The flashing LED blinks continuously so anyone noticing the camera will believe that they are being watched and that it is recording them. If you don't want to use the blinking light, simply remove the batteries.
These dummy dome cameras are similar to those you see in department and grocery stores…no one will ever know the difference! Before you look into spending hundreds of dollars on a high-tech, difficult to install surveillance system, try this Dummy Dome Surveillance Camera with Flashing LED Light…it may just be all you need.
Dome Dummy Camera w/ Flashing LED
Suspect employee theft?
Think they may be goofing off?
Looking for something inexpensive?
This dome surveillance dummy camera looks just like the real thing, but costs a lot less! Pretend like you're keeping an eye on what is going on in your office or store with the Dummy Dome Surveillance Camera. It even has a flashing LED light which makes it look even more real. It only takes minutes to install - just insert two AA alkaline batteries (not included), mount it to the ceiling using the included metal mounting bracket, and that's it!
Your employees and customers will never know that it isn't real…a great deterrent from employee and customer theft that is well within in a conservative budget...so grab a few!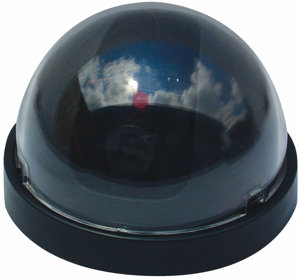 •DM-DOML Dome Dummy Camera w/ Flashing LED
This unit contains a flashing red LED light which draws extra attention to the camera, particularly at night.
Specifications:
- Base measures 3 7/8" across and the dome is 2 3/4" high.
- Operates on 2 "AA" batteries (not included).
You may also be interested in these Dummy Cameras
Shipping Deal


Receive FREE UPS Ground or US Mail shipping on all orders of $75.00 and up!
*US Residents only
Join Our Mailing List
We send out Specials and Discounts to those on our mailing list.
Your privacy is kept safe.