Your order is processed and shipped on the very same or next business day. You will receive a tracking number once your order ships letting you track your package on its way to you.
For orders $50 and above
Flat rate of $4.99 - $7.99 otherwise
Most orders ship US Mail
USPS and UPS Deliverabilty
Description
One of the most popular items that home security companies offer is the wireless motion sensor alarm. Many home and business owners prefer it because it combines both passive and active types of security monitoring and crime prevention. 
A motion sensor alarm essentially works by electronically sensing motion which would then trigger an alarm.
This HOMESAFE WIRELESS HOME SECURITY MOTION SENSOR can detect motion from up to 8 meters away and has 110-degree motion detection angle. It has a wireless radio frequency range of 300 feet.
When triggered the RF signal activates the alarm. Uses one 9-volt battery (not included). Easily protect every window and door of your home.
Wireless Motion Sensor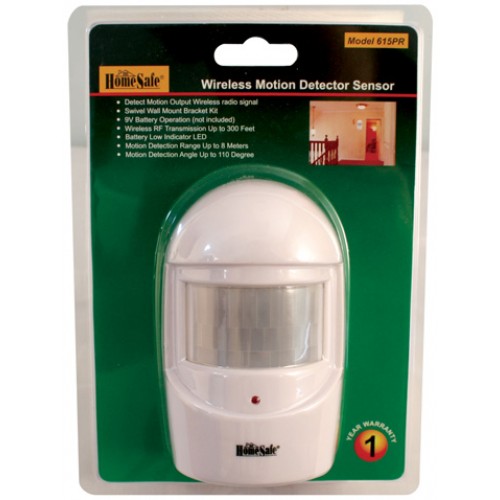 Used in conjunction with the Electronic Watch Dog
You may also be interested in