How a Home Security Doorbell Can Increase Safety
With the advancements in smart home technologies, securing your home is easier than ever before.
But with all of the options in the market, it can be difficult to find the best one for your home protection needs.
Should you have cameras surrounding your home? What about motion detection? Not too sure? A video doorbell is a good place to start!
Home Security Doorbell Benefits
A video doorbell is a conventional doorbell coupled with added features such as a camera, motion detection, and cloud storage.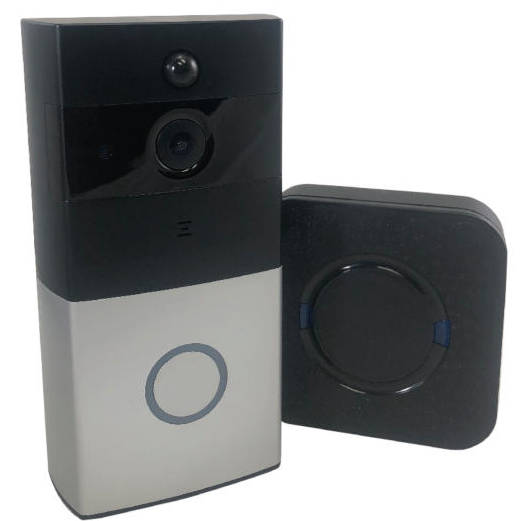 By adding this device to your home's security, you are provided with convenience and constant reassurance of your home's safety.
Added Security
Traditional security systems are ineffective. They do not prevent crime. The traditional security system allows the intruder to get inside, invade your privacy, and escape before the police arrive.
With 80 percent of break-ins occurring at the front door, this device will help to deter, identify, and catch any intruders that come.
It combines the functions of the traditional doorbell with a high-definition video camera, the video doorbell allows you to monitor who is at the door at all times, speak to your visitors through an intercom. You can be reassured that your home is secured, even while you're on vacation.
The video activates when the button is pressed or when motion is detected, depending on the settings.
From there, the device will send a notification to your smartphone, as well as any others that are connected if the device allows multiple users. The video clips will be saved and stored on a secure cloud network.
The secure cloud network provides you with an added level of protection that traditional security systems do not possess. Saving the video clips allows for the possibility to return and watch the clips at a later date, a feature which would be extremely helpful if there happens to be a burglary.
With an integrated intercom, you are able to speak to your visitors through your phone. Tell any suspicious characters that you are unable to come to the door– you are preoccupied feeding your rottweilers. They won't know that you are actually relaxing at the beach 100 miles away.
Another added benefit of the smart video doorbell is the ability to set custom rules. Do you want to be notified once the doorbell rings? Would you prefer the doorbell be set for motion detection? All of this is customizable for your lifestyle and preferences.
Cost Benefits
Most packages will cost $200, a small price to pay for the reassurance provided.
Plus, there is an option for a $49 doorbell that still provides you with the integrated intercom and smart technology.
Convenience
With this device, you no longer need to be home to know who stopped by.
The video camera will save recordings throughout the day and send notifications to your smartphone if the doorbell is pressed. And with integrated night vision, the video will be clear even after dark.
When you are away, this device will allow you to speak to your visitors.
This addition allows you to be flexible! You can deter burglars by notifying them the authorities are on their way. You can let a visitor know that you will be home soon, or even tell the delivery guy to leave the package at your door.
The video doorbell provides convenient security that allows for even the most nervous to relax while away from home.
Going away on vacation and want to verify that the pet sitter comes on a daily basis? No problem! Set the motion detector to notify you whenever someone approaches your door, even if they do not ring the doorbell.
Finally, another benefit of getting this extra level of security is the installation. Usually, installation is the difficult part.
However, the installation of this device is so simple even the most technically challenged will have no problem!
Options in the Market
There are a variety of video doorbells in the market that can help you better secure your home. Here are a few options to help your research get started.
Ring Wi-fi Video Doorbell
The Ring Wi-fi Video Doorbell (a.k.a. the Ring) allows you to use a smartphone or a tablet to see and speak with your visitors, no matter where you may be.
With the high-quality picture, at 720p HD video, and high-quality audio, the device allows for simple and easy communication. Plus, with infrared night vision, the video is captured at any time of day.
The Ring comes in four colors and comes with a lifetime purchase protection plan that ensures you will always have protection for your home. It can be powered either by the existing electrical wires or a manual charge allowing for a simple installation process.
Plus, the device can operate between -5 and 120 degrees Fahrenheit, making it able to withstand weather conditions that would be harmful to other devices.
There is also the Ring Video Doorbell Pro which is slimmer and possesses more features for your security.
SkyBell Wi-fi Doorbell
The SkyBell Wi-fi Doorbell is available in 2 colors and contains an easy-to-use app.
This feature-rich option contains both an on-demand video option and a do not disturb mode that will only notify your phone. The video is saved for free up to 7 days on the SkyBell Cloud Server, a good thing to note if cost is a big factor in your decision.
At 2.8 inches wide and .9 inches deep, the SkyBell Wi-fi Doorbell is not too big or overbearing.
Plus, it is equipped with 1080p HD video and a 5x zoom. Operating temperature is between -40 and 140 degrees Fahrenheit, allowing it to withstand weather conditions that would be harmful to other devices.
August Doorbell Cam
The August Doorbell Cam provides the same motion detection and cloud storage as the other two. However, there is no option for night vision, thereby rendering the camera useless after dark.
At 2.9 square inches, this model appeals to those who are more design-minded. And, if you already possess the August lock, you can secure your home further thanks to the integration between the two devices.
Vivint Doorbell Camera
The slimmest of these options, the Vivint Doorbell Camera is available only in black and comes with a professional installation.
The feature-rich, easy to use doorbell allows for multiple people to get alerts sent to their phones. Plus, it has high-quality video and audio and provides you with the option to see the video at any time.
The catch? You need to sign a 5-year contract and pay $60 per month to receive this device. So, if you're looking for a no-strings-attached option, the Vivint Doorbell Camera is not for you.
Even More Security Measures
There are several other security measures that can enhance your home security, especially when used in conjunction with the doorbell.
IFTT- If This Then That
If you have a smart device, consider downloading the IFTT app. This powerful and free app allows smart devices to talk to one another, providing your home with even more security.
In conjunction with a video doorbell, the IFTT app can help you to program things to happen automatically. For example, to deter burglars, you could use a recipe that would automatically turn on the radio once the device detects motion.
Remote Lock 6i
Control your doorknob automatically with the Remote Lock 6i. This smart device allows you to lock and unlock your door through the use of your smartphone!
Paired with the doorbell, this device allows you to unlock the door for friends and family when you are not home. Rather than making your visitors stand outside waiting for you to finish running your errands, you will be notified when you have a visitor.
The notification will have a video clip that allows you to see the visitor, and the Remote Lock 6i allows you to unlock the door!
Another benefit is that the lock disables after 5 failed attempts allowing you to be reassured in the safety of your home.
Belkin WeMo Insight Switch
Customize schedules and control your electronics with the Belkin WeMo Insight Switch.
This switch combines the convenience of timers with reassurance and convenience. Automatically turning devices on and off according to the schedule you have set.
Combined with the Ring, the Belkin WeMo Insight Switch can easily help to deter burglars.
Set the switch to turn on the radio, television, or some lamps whenever the doorbell detects motion. Without the reassurance of an empty home, the potential intruder will leave your home alone!
Conclusion
With security incidents on the rise across the country, it is important to do all you can to secure your home, property and loved ones.
One of the best ways to boost your home security is to install a video doorbell, which as you have read, will keep the bad guys from entering your home and stealing or causing home.
At TBOTECH, we offer a range of self and home defense devices and systems. Get in touch with us so we can address your concerns about video doorbells and other products.
Check out more blog entries or shop our best sellers. Blog readers get 10% off! Use promo code: blog10 during check-out.