Your order is processed and shipped on the very same or next business day. You will receive a tracking number once your order ships letting you track your package on its way to you.
For orders $50 and above
Flat rate of $4.99 - $7.99 otherwise
Most orders ship US Mail
USPS and UPS Deliverabilty
Description
This can of an emergency tire repair fits in your garage, workshop, or even in the back of your trunk. It can hide things that you do not want to be found. This vehicle safe is just what you need to hide your traveling money or other items you wouldn't want to be stolen.
Vehicle Hidden Safe
Unscrew the bottom and place your stash right inside. Then just screw it back on and toss it in the trunk. Doesn't look out of place at all.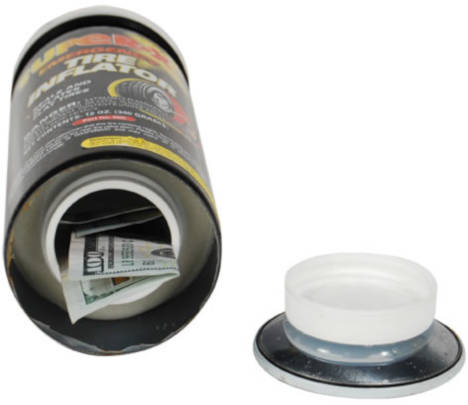 Interior dimensions of safe 1 3/4" x 4"
This is a diversion safe for car or truck. Obviously, no one would think anything out of the ordinary to see a can of emergency tire inflator in your car. In fact, it's a smart thing to have a real one in there just in case you get a flat.
So, if you've been looking for a hidden car safe, then this one is perfect for you. Order yours today!
You may also be interested in