Using Hidden Safes in Storing Your Valuables
The usual impression people have about hidden safes is that they are located behind paintings or behind a rug. However, this is a misconception that's mainly propagated by Hollywood and the crime suspense genre.
The truth is that a hidden safe can be placed in any part of your house, and concealed by all kinds of disguises. They also come in various shapes and sizes and can be used to veil all kinds of valuable items. There are, for example, wall safes that look like wall sockets.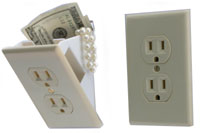 This creative method for hiding valuables is quite useful for two main reasons. First, secret containers allow you to pick the area where you keep your valuables.
Most people hide important items in their bedrooms, but with the use of a diversion safe, you can try hiding them in other rooms as well.
The second reason why these are useful is that they allow you hide your valuables in a way that fits your own security concerns.
The truth is that there are a lot of people who are not comfortable with the idea of hiding their belongings in a conventional security safe. Disguised options provide them with the alternative that works for them.
Diversion Safes Can be Anything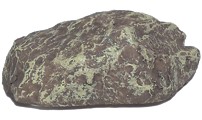 Perhaps one of the best examples of a creative, but well-designed hider is a "stone" safe, which is designed to look like a simple rock.
You can use this ordinary looking rock to hide your home's keys in the most inconspicuous of places.
For the purpose of this article, let's assume that a burglar is currently in the process of robbing your house. Burglars are typically smart, methodical and intelligent. If they are trying to steal something from you, it's because they've been scouting your house for a long time.
They know certain things about your home, but they are also ignorant about certain items. They may figure, for example, that you have valuables inside your house. However, they don't actually know where you're keeping them at the time they enter your home.
This is where one or more of these come in handy. Burglars have a harder time finding your most valuable items - even though they're hidden in plain sight. In contrast, the lock on a conventional safe only offers a temporary obstacle to stealing your valuables.
Given enough time and resources, a well-prepared burglar can open it. After all, professional prowler wouldn't attempt to steal your valuables unless he is confident he can crack your safe. And in most cases, they can.
The average burglar may know certain things about your home, like where certain rooms are located or when the inhabitants leave the house, but they are less likely to know where you keep or store your valuables.
This is important because if you're trying to rob someone's house, and you don't know where the good stuff is, then you first need to look for it. Even under optimum circumstances that takes up a lot of time and increases the burglar's risk of exposure.
This is why hidden safes are important. They decrease the risk of someone stealing your stuff.
Click here to see a multitude of options available for diversion safes. You'll sure to find one for you!
Check out more blog entries or shop our best sellers. Blog readers get 10% off! Use promo code: blog10 during check-out.