Travel Alarm
The Small Motion Sensor is both a personal alarm and a travel security device. When used as a personal alarm, a tug on the alarm cord on top of the unit will activate the ear piercing alarm and it will continue until you press the top back down.
Personal Proximity Sensor emits a loud 100dB blast bringing attention!
The mini travel alarm also has an integrated Passive Infrared (PIR) motion sensor. It senses motion and has a horizontal detection area of 30° and a detection distance of nearly 10 feet. Perfect for an early warning device. Or as your own proximity sensor alarm.
You could use this in your room pointed toward the door in case it opens and someone tries to get in. When the sensor picks up their movement, it will sound off which will wake you and get them running.
At only a few inches tall, it's one of the smallest motion sensors that are readily available to the public.
Just slide the cover down exposing the infrared sensor and the off/auto switch. Turn the switch to auto, and the sensor will start detecting motion in 60 seconds. If PIR sensor is triggered via movement detection, it activates an alarm lasting for 15 seconds. It then automatically re-arms itself.
Contains an LED flashlight you can use for lighting up the doorknob so you can see where the keyhole is. Its convenient size makes it perfect for carrying with you and traveling. Uses replaceable AG13 batteries (included).
---
Built-in Motion Sensor Travel Alarm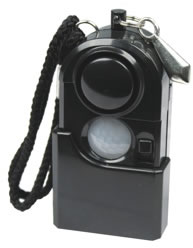 USING THE ALARM FOR MOTION DETECTION
(1) Place the mini travel alarm on a vibration-free, dry, flat surface within 10 feet of the area you want to monitor for movement. 
(2) Move the "slide cover" downward. 
(3) Slide the "OFF/AUTO" switch to the lower position to activate the alarm for motion detection.
(4) If motion is detected within the coverage area after 60 seconds, the alarm sounds for 15 seconds and then automatically resets.
LED FUNCTION
A bright white LED can be activated and remain on by pressing the "control button".
SAFETY INSTRUCTIONS
(1) Do not expose the Mini PIR Personal Alarm to extreme temperatures, direct sunlight, intense vibration, humidity, heavy mechanical stress or sudden impact.
(2) After rapid changes in temperature, the unit requires approximately 15 minutes to adjust to the surrounding temperature before it functions properly.
(3) The Travel Guard produces a 100 dB alert when triggered. Thus, never place the mini travel alarm in direct proximity to your ears.
(4) Be sure the Travel Guard is placed on a vibration-free, dry flat surface during operation to avoid false alarms.
(5) Use only 3 x 1.5 V/DC LR44 button cells for power. These are included.
Camping Trouble?
Use this one for an infrared camping alarm! Or this one.