Three Throwing Knives Set
Thunder Buster Throwing Knife Set
Train up for your next knife-throwing competition with this awesome set. This set of three throwing knives is well balanced.
3 Piece Throwing Knife Stainless Steel. 6.5" Length.
3 Piece Set, made from 440 stainless steel, great beginner to intermediate throwing knife. Includes a sheath pouch for the knives.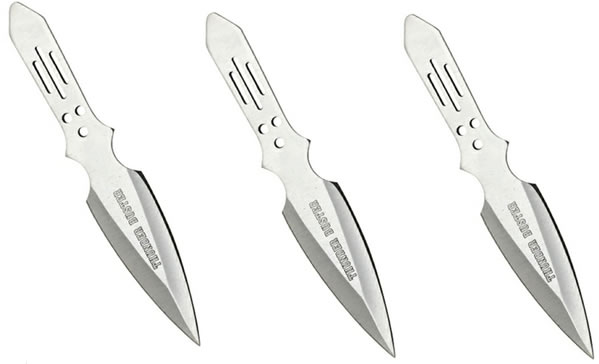 You're probably familiar with throwing knives as props for a circus or carnival act. They are that and so much more. Throwing knives are some of the oldest forms of self-defense weapons. They can be very dangerous and risky for those who don't know how to use them. Here are tips on how to safely use throwing knives:
Always know your weapon - Although a set of throwing knives generally weigh and look the same, you need to be able to familiarize yourself with each one in order to wield them effectively and safely. Be familiar with the design, the handle, the length of the blade, where the sharp edge or points are, and how the knives perform when thrown.
Maintain your distance - A throwing knife works best if you maintain sufficient distance from your target. Maintain four to six paces from your target. This distance is about 6 to 8 feet - up to 13 feet, depending on how you hold the knife. This should be enough to allow you to bend your upper body forward for the throw and for your knife to sustain momentum.
Hold your knife the right way - There are two ways you can hold a throwing knife: by the blade or by the handle. If you prefer to handle the knife by the blade (also called a half-spin), maintain an average of 7 feet from the target, move a foot forward (left for righties and right for lefties), and make an overhand throw. Maintain about 12 feet or so if you prefer to hold the throwing knife by the handle (this manner is called the full spin). Adjust your distance depending on how the knife hits the target.
Practice - You probably can't hope to hit your target in the right spot the first time you use a throwing knife. If you must learn how to use it safely and effectively, you need to practice every day initially, at least for an hour or so. This is so that you will be able to build muscle memory. In case you need to use a throwing knife for a performance or for self-defense, you will know exactly how to do it. Use a plyboard, a strong cardboard, or a sandbag as a target for practice.
Know that it is a weapon - Never play with a throwing knife. Accidents can happen, and if you're not careful, you could cause harm to yourself or another person. Practice common sense to ensure that you use your throwing knives safely and responsibly.