Your order is processed and shipped on the very same or next business day. You will receive a tracking number once your order ships letting you track your package on its way to you.
For orders $50 and above
Flat rate of $4.99 - $7.99 otherwise
Most orders ship US Mail
USPS and UPS Deliverabilty
Description
Protect yourself with the power of the Police Force…
The Police Force Tactical Stun Baton Flashlight is one of the best tactical defense tools on the market today. This baton is powered by 2 removable, rechargeable lithium batteries and incorporates a military-grade aluminum body, ultra-bright tactical flashlight, and powerful stun technology so you will be prepared for any situation you may face.
The problem with many multi-function devices is that they really don't do any single function well. In sharp contrast, this model stands out in the crowded stun baton market by being exceptional in these three key areas:
Shock Proof Exterior: The military-grade aluminum alloy exterior allows it not only to be used as a self-defense tool for striking an assailant but it can withstand rugged use and extreme conditions often encountered by the military and law enforcement officers.
Extreme Power: Streetwise Security Products has been providing top-rated stun guns and batons for over 20 years and this is the strongest model they have produced! Combining the power of this high powered stun baton with our Triple Stun Technology (TST), the loud and bright electrical burst illuminates the entire top of the stun baton and will quickly take down anyone unfortunate enough to come in contact with it.
Blinding 3 Watt CREE LED with 5 Light Modes: This is the strongest light we have ever seen built into a stun baton. It will not only safely illuminate the entire area at night but can also be used to protect you. When shined into the eyes of an attacker, the ultra-bright 150 lumen light can have a temporary blinding effect making it easy for you to immobilize them with the stun or strike with the metal baton.

Although this tactical baton is designed to meet the rigorous demands of the Military, Police, and other security professionals, it is also a great choice for regular people who want a great flashlight and peace of mind knowing they can effectively protect themselves with a top of the line defensive tool should the need arise. Whether you leave this stun baton on your nightstand or carry it with you in your car or even in the included heavy-duty holster, protecting yourself is as easy as 1,2,3:
Identify the threat: An attacker will use the cover of darkness to sneak up on their victims and to hide their identity. He'll also look for the most vulnerable victim. This powerful light beam shined in the direction of a possible attacker is often enough to persuade him to go in search of an easier target.
Disorient the Attacker: Shining the ultra-bright light directly into someone's eyes will cause several seconds of disorientation and impaired vision. The Police Force 12,000,000 Metal Tactical Stun Baton Flashlight boasts a super bright light beam with Self Defense Strobe that can disorient your attacker and give you time to flee.
Strike or Stun! If these first two are not enough to deter your attacker, a blow from the metal baton or a shock from the powerful stun gun certainly will.
Unboxing the PFTB12R
Flashlight Stun Baton
Features:
Police Strength Protection: Engineered to meet the demands of Police, Military, and Security Professionals worldwide but also available to civilians.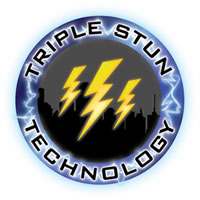 Triple Stun Technology: Most stun guns on the market today have only one or two points of contact. When using this model to defend yourself, the Triple Stun Technology (TST) allows an electrical charge to emanate between three separate points on the top of the stun baton (the two sides and the middle). This creates a larger stun radius, allowing you to easily defend yourself. Even when test fired, the loud and bright electrical burst is often enough to stop an attacker, and if not, a jolt from this unit certainly will!
Tactical Striking Edge: Increases effectiveness as a self-defense tool and as an emergency glass breaker.
Military Grade Aluminum Alloy: The shockproof exterior not only protects the unit from damage but can also be used to strike your assailant.
Blinding 3 Watt Cree LED Light: Not only will the flashlight safely illuminate the entire area at night, but it can also help to protect you. When shined in the eyes of an attacker, the ultra-bright light can have a temporary blinding effect making it easy for you to immobilize them with the stun gun or strike with the baton.
Long Life Bulb: The LED Bulb will last up to 100,000 hours
5 light modes: There are three light strengths (maximum, medium, and low) and two light patterns. When the situation does not require maximum light strength, the medium and low settings can be used to extend the battery life. The strobe light mode can momentarily blind and disorient an attacker and the SOS rescue light pattern can signal for help in an emergency.
Long Reach: At 13.5 inches long this tactical baton is long enough to keep you a safe distance away from your attacker but short enough to easily carry with you in the included holster.
Car and Wall Chargers: Whether at home or on the go recharging the batteries is simple.
Removable Rechargeable Batteries: A set of rechargeable batteries is included; however, if you don't have time to recharge the baton, you can purchase additional batteries to carry with you so you will never be without power.
Holster and Wrist Strap Included: To make it easier to carry, both a heavy-duty holster with a belt loop and a wrist strap are included.
Lifetime Warranty: Manufactured using the highest quality components by Streetwise Security Products the leading stun gun manufacturer and backed by their lifetime warranty. The Police Force tactical stun baton is made of the highest quality components and comes with a lifetime warranty. See the enclosed instructions for complete details. (note: the batteries are not included in the lifetime warranty)
Includes
Streetwise Police Force 12,000,000 Tactical Stun Baton Flashlight

Holster and Wrist Strap

Instructions

Wall and Car Charger

Dual Port Charger

Two 3.7 Volt Li-ion 4000mA Rechargeable Batteries
Reviews
You may also be interested in