Shorty Flashlight Stun Gun 75,000,000 volts
A Vehicle Breakdown Can Be Scary!
Are You Protected Until Help Arrives?
Never be without self-defense with one of these multi-purpose flashlights! Stun gun and flashlight all in one unit. Great protection device for keeping in your car. Whether you get stranded on the side of the road, in a parking lot, or anywhere while in your vehicle, you need this stun flashlight.
Shorty Stun Flashlight
On a dark night, this is a great device for personal protection in all aspects - it's a flashlight and a stun gun - all in one.
The bright 120-lumen flashlight will light up any scene. It's made of high-quality aircraft grade aluminum and can be used as a baton as well.
Surprise a potential attacker - he'd think you are just holding a plain old flashlight! As he approaches to attack you, give him the shock of his life. Keep it in the trunk, or readily available underneath the seat!
Some states have restrictions on Stun Devices. Check if your state has restrictions here: Shipping Restrictions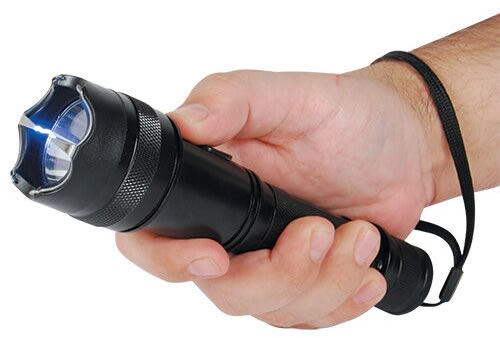 • This handy little flashlight is a 75 million volt stunner.
• 120-lumen brightness.
• The body is made of high-quality aircraft aluminum.
• Rechargeable.
• 7 1/2" x 1 7/8"
• Free Holster with belt loop
This rechargeable, flashlight stun gun is made from a strong aircraft grade aluminum and a high technology polymer coating. This gives the flashlight stun gun a very solid construction. Not only is it tough, but it packs 4.7 milliamps of power that will have any attacker begging for mercy. The free nylon holster can easily attach to a belt. The unit comes with a recharging cord, safety wrist strap and an on/off safety switch.