Police Force 9,000,000 Tactical Stun Baton Flashlight
This rechargeable stunning baton is a great protection device for just about any situation. With it's extended reach, this elongated producer of painful energy is powerful and effective at warding off an attack.
Stun Gun Baton
A display of the sight and sound of the electrical discharge will make someone not want to come any closer. If they do, they get the shock of their life. Shock Sticks are used to ward off an attack and give you time to get away.

Police Force 9,000,000 Tactical Stun Baton Flashlight
Military Grade Aluminum Alloy Baton: The shockproof exterior allows it not only to be used as a self defense tool for striking an assailant but it can withstand rugged use and extreme conditions often encountered by the military and law enforcement officers.
Powerful: Police Force combines the power of this stun stick with our Triple Stun Technology (TST), the bright and loud electrical burst illuminates the entire top of the unit and will quickly take down anyone unfortunate enough to come in contact with it.
Blinding 3 Watt CREE LED with 5 Light Modes: It will not only safety illuminate the entire area at night but can also be used to protect you. When shinned in the eyes of an attacker, the ultra-bright 140 lumen light can have a temporary blinding effect making it easy for you to immobilize them with the stun gun or strike with the baton. (Note: 140 are the actual lumens. Some companies will exaggerate this number and claim a light this bright to be 280 lumens or more).
Stun Gun Batons are also great for breaking up dog fights or scaring a threatening dog away from you. We get a lot of questions about dog attacks or loose animals while running or walking. This is the device we recommend for that.
An electrical discharge is an unnatural sound and dogs will usually cower away from you just pressing the button. However, if they don't, you have a long enough distance to keep the dog away from you and a very powerful shock that will make the animal think twice. Here's a story about how this was used as a dog defense stick:
---
"Your staff went above and beyond. They (Shannon, the wonderful young lady I placed the order with and discussed the product and another one when I called back to reach my initial contact) were sympathetic to my situation and informative to my questions.
She was also speedy in response to my dire need. I am sure you are quite proud of them. I bought the baton so I could break up fights between two large dogs that went from best friends to worst enemy's a couple of weeks ago.

Last night – although we have tried to keep them separate – their paths crossed upstairs. The four large boys at home could not break them up and … well it was ugly again. But – I jumped up the second I heard the fight start and ran up the stairs hitting the button on the baton and it's my understanding all stood still including the dogs knowing mama was on her way up with something scary.
So I have not used the baton on them, but the noise – which I had previously shown them each when I received the product – was enough to make them worry about me and stop trying to kill each other." Wendy Tise - Houston, TX
---
Nearly 17" Long with Rubber Handle
*Voltage is comparable to other brands that claim to be 9,000,000 volts.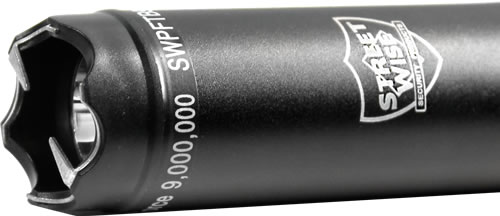 An enlarged view of the head.
5 Light Modes: There are three light strengths (maximum, medium, and low) and two light patterns. When the situation does not require maximum light strength the other two settings can be used to conserve battery strength. The strobe light mode can momentarily blind an attacker and the SOS rescue light pattern can signal for help in an emergency.
Long Reach: At almost 17 inches long this stun gun baton is long enough to keep you a safe distance away from your attacker but short enough to carry on your belt using the metal clip.
Rechargeable: Recharging cord (included) plugs directly into a standard wall outlet to save you money on batteries.
Easy to Carry: To make it easy to carry, a metal ring with a clip is included.
Some states have restrictions on Stun Devices. Check if your state has restrictions here: Shipping Restrictions