Steel Ninja Star
Are you interested in the ancient art of Martial Arts? Are you currently attending a Martial Arts school? Many Martial Arts schools teach their students the art of throwing weapons. Our steel Ninja star is perfect those who are learning the ancient art of throwing weapons like throwing stars or Shuriken. Our steel Ninja star comes with a full warranty and a 90-day free return policy. With affordable pricing and shipping across the United States, you can't go wrong.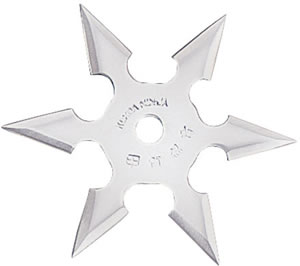 Stainless steel ninja star

4" in diameter

Comes with carrying pouch
Whether you are a master with throwing weapons or are a student, our steel Ninja star is the answer. Our four-inch throwing stars are manufactured with high-quality steel.
Throwing weapons have been one of the primary weapons used for centuries around the globe. The most notably ancient society to use throwing weapons was Japan. Today, steel Ninja stars are used in Martial Arts across the world.
With our steel Ninja star, you can practice the art of throwing weapons used by Japanese Samurais. Many people think mastering throwing weapons is easy; however, you must have a properly balanced, correctly sized steel Ninja star if you are going to be successful.
Pick up some of our steel Ninja stars and be like a mysterious Japanese warrior. The market for throwing stars is thriving, which means there are numerous online vendors offering inferior throwing stars. You can rest assured that the steel Ninja throwing star that we offer is top quality and manufactured for discriminating shoppers like you.
Say goodbye to inferior throwing stars and hello to a perfectly balanced and steel Ninja star. The Ninja star comes with its own carrying pouch to ensure your weapon is safe and secure. Order our steel Ninja star today and see the difference a quality Shuriken can make!