Your order is processed and shipped on the very same or next business day. You will receive a tracking number once your order ships letting you track your package on its way to you.
For orders $50 and above
Flat rate of $4.99 - $7.99 otherwise
Most orders ship US Mail
USPS and UPS Deliverabilty
Description
This powerful solar motion light is easily placed anywhere and illuminates the dark areas around your home at night. Recharges during the day, turns on and shines brightly whenever motion is detected.
Turns darkness into day and provides security for your home or business. This motion sensor light is perfect around entrances and walkways or anywhere you need a safety light at night.
The Streetwise SafeZone Solar Motion LED Light has 20 high-powered LEDs to provide an excellent 160 Lumens of illumination.
The eco-friendly design means our light is charged through the day by exposure to sunlight. Its Li-ion battery can provide up to 12 hours of illumination at night from just 7 hours of charging during the day.
The light features a PIR motion sensor that is activated when movement is detected within 15 feet.
Solar Powered Motion Sensor Light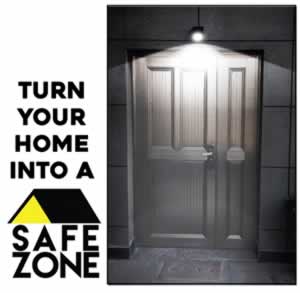 Easy installation: Takes only minutes to install with the included hardware.
Durable: The light has been certified to IP65; it is water resistant, heat-resistant and rugged. It can keep working throughout anything the great outdoors has in store.
Features:
Motion activated

Weather-Proof design - IP65

Installs in seconds

Solar energy powered

Automated switch - on at night/off at sunrise

Over 12 hours of light on a full day charge

20 LEDS - 160 Lumens

Night sensor
Contents:
Streetwise SafeZone Solar Motion LED Light

Mounting hardware

Instructions
This sun powered security light is perfect for those areas that have no outlet such as your shed, pool or backyard.
To turn on the motion LED light, you press the on/off button. To turn off, press the button again. Place the product under direct sunlight and charge for 8 hours prior to installation. The panels are charged with the light of the sun. The electrical energy is stored in the internal Lithium battery.
When the sensor detects low light, it will automatically turn on in dim light mode. When motion is detected, it will fully illuminate the area. Once the motion has passed, it will become dim again after about 10 seconds.
Technical Specifications:
Power: 5.5V 100Ma - 17% conversion of power

Battery: Lithium Battery 3.7V 800mAh

LED: 0.2W/SMD2835*20PCS

Flux: 160 lm

Angle of Detection: 110 degrees

Distance of Detection: 10-15 feet

Charging Time: 8 hours in direct sun

Waterproof Level: IP65

Size: 3.5 x 5 x 2 inches

Net Weight: 5.5 oz
The efficiency of solar panels depends on the direct sunlight exposure hours and weather conditions. The stronger the direct sunlight, the quicker the recharge time. Charging on rainy days will increase the charging time and affect the brightness of the light.
Place these at all strategic locations around your property to increase safety and security. Never be afraid to walk a path due to it being too dark. These can be set up anywhere without the need for an external power source and provide increased lighting to make you feel safer.
You may also be interested in