Short Throwing Knives
We are delighted to be able to offer these short throwing knives sets - perfect for anyone looking to get started with throwing knives. This set of two excellent 5.5" knives is a fantastic way to dip your toes into the world of knife throwing, and at such a great price we're sure you'll be satisfied! The set includes a fabric carrying pouch for easy transportation of your knives.
Effective at Close Distance
Shorter knives are ideal for close distance targets. They are lighter and therefore can be thrown at a higher speed. The knife handles are crafted to ensure accuracy in your throws. These are all reasons why we believe this outstanding set to be a perfect introduction to throwing knives. The knives will also make a great addition to any collection. If you have experience with longer knives and are looking for something smaller, this is a great option.
Eye Catching Design
The knives are printed with an eye-catching biohazard design - perfect for practicing for the impending zombie apocalypse, but also making it easy to spot them after a missed throw! Manufactured with 440 stainless steel and with our quality finish, you don't have to worry about rust or wear and tear. These knives will last you for years with the right care and attention.
Concealable
Short throwing knives have the benefit of being extra concealable and are also less likely to breach state laws regarding knife length. Be sure to check the laws in your region regarding throwing knives.
Order Yours Now!
What are you waiting for? Order today and discover your new favorite hobby! We are proud to offer shipping to every state, and shipping is always free above $50. We also offer a warranty on every product, ensuring you don't have to worry about a thing. We offer free returns within 90 days of purchase, but we're absolutely certain you'll love these knives!  
2 Piece Throwing Knife Black Color BioHazard. 5.5" Length, 2 Piece Set, made from 440 stainless steel, great beginner to intermediate throwing knife. Includes sheath pouch for knives.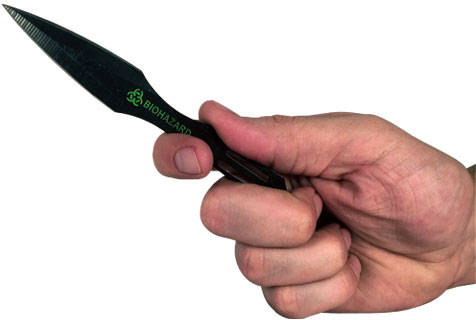 Short throwing knives have the advantage of being more concealable than longer blades. They are also less likely to run afoul of some state laws concerning knife length.
These are lighter and most suited for shorter distance tosses.