Whether you are an actual police officer, one in training, or simply someone who thinks police gear is cool, you have many options today for high-tech training gear that the pros use.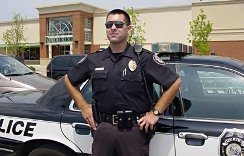 Even some schools now rely on items like the Wand Metal Detectors for entry on to campus and student functions, which means that there is more need than ever for quality products at affordable prices.
Security often comes at quite a price, but our stock of police gear is affordable and has a wide variety of uses.
Police Supplies
Mace has also been in the police force arsenal for quite some time and is the most well-known brand of pepper spray. We offer many different types of this self defense item, so you can pick and choose according to your protection needs and the restrictions for the state in which you live.  You can also find our pepper sprays in spray, fogger, gel, get accessories like holsters and refills, and even choose disguised pepper sprays such as a baton, tube of lipstick, or even a gun. Your options are virtually unlimited with this product!
Believe it or not, many police officers, security guards, and other types of law enforcement professionals must be prepared to repel animals during certain circumstances, which means that you will often find animal repellent among professional protection agents. Animal control is only used when necessary but can be tragic if the animal cannot be subdued. We offer specifically designed Bear Pepper Spray as well as Dog Pepper Spray, and civilians can utilize this product as well.
Whatever your motivation for buying specialty gear, we are the place people go to when you want the best products at the lowest prices. Find what you need with us!
Our police supplies consist of restraining devices such as handcuffs as well as thumb cuffs. 
Police stun guns are up in the stun guns category at the top of the left-hand column. Generally, when people refer to police stun guns, they are referring to TASER devices and not actual contact stun guns. Stun guns require physical contact with a person to be effective.
TASER devices are in the TASER Devices category. We also carry the civilian version called the Taser Pulse. These are the most popular TASER weapons. Easily carried and used by men or women, this is THE choice for personal self-defense.
Pepper spray is also used by police and we have that in the Pepper Spray category. We have so many choices of self-defense sprays that it deserves its own category. We carry Mace, Pepper Shot, and Wildfire brands of pepper sprays.
Many police supplies fall into more than one category (such as police batons) so search around and find what you're looking for. You can also use the search box at the top and go specifically to what you are searching for.
Police supplies do not necessarily need to be restricted to police use only. Ordinary civilians can purchase and use most of our products. Only a few states have restrictions on our shipping to them. Our self defense products are used by tens of thousands of satisfied customers from all across the USA.
Our telescopic extendable batons are a best seller! In conjunction with the police baton light, you can add some illumination to the situation.