Your order is processed and shipped on the very same or next business day. You will receive a tracking number once your order ships letting you track your package on its way to you.
For orders $50 and above
Flat rate of $4.99 - $7.99 otherwise
Most orders ship US Mail
USPS and UPS Deliverabilty
Description
If you love your furry friend, you will love the Pet Blinkie. Pet Blinkies are vibrant, multi-color lights that attach easily to a collar, leash or harness. These bright lights blink with colorful patterns that help you identify exactly where they are at all times. They are waterproof and visible up to 1/2 mile away. Available in Pink & Jade only.
Pet Safety Lights are designed for all pets with owners who care.
These dashingly delightful accoutrements are a popular item and for many good reasons.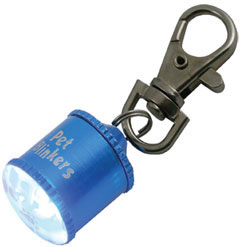 Need help finding your canine friend at nighttime? Do you feel afraid that your companion will disappear from your sight? Are you having a hard time finding something to solve these problems? Then consider this wonderful product.
Our led dog collar lights are an easy and safe way to take that desired walk when it is more difficult for your walking companion to be seen.
The LED Blinker attaches to the collar!
These pet safety lights are perfect for your dog or even a cat. If your furry friend wanders off, you will be able to see exactly where he or she is at. When you don't need the extra visibility, you can turn it off or you can remove it from the collar.
Long Lasting
How long does the blinking last? If you left it on constantly, you get about 3 solid full days of blinking with one set of batteries. And you can get an extra set that gives you the ability to replace them 4 more times.
Taking a late evening stroll with your pet can now be much safer. The light clip is clearly visible at night, keeping drivers aware of where your animal is. With the pet blinkie's bright, multi-colored flashing, motorists will be able to see you and your animal from a ½ mile away!
If he or she happens to escape their leash and runoff, the blinking feature on the unit can help you locate your them.
Clips on the Collar
A simple clip-on attachment on the Blinkie allows it to attach to any collar, leash, or harness. It is just as easy to remove them as it is to attach.
It is weatherproof as well so that inclement weather will not cause the unit to malfunction.
The dog safety light on the unit can last up to three days of constant blinking with one set of batteries. Of course, you're not going to let blink day and night so it lasts a lot longer under normal usage. Replacement batteries (AG3). If you do not need the light, simply turn it off until you do need it.
Taking a nice stroll before sunrise, or that relaxing stride just after sunset with your faithful canine can now be much safer. If your affectionate friend decides to run off, there is now a faster way to locate them. Finding your pet anywhere in foggy weather is also now much simpler. This easy to use safety light can solve all of these problems for you, without having to resort to more expensive or difficult ways to do it.
You may also be interested in