Your order is processed and shipped on the very same or next business day. You will receive a tracking number once your order ships letting you track your package on its way to you.
For orders $50 and above
Flat rate of $4.99 - $7.99 otherwise
Most orders ship US Mail
USPS and UPS Deliverabilty
Description
The Mace® Pepper Gun has a nylon holster available. It comes with a belt loop so you can carry on your side. It also features a snap closure so your pepper gun stays secure.
These Holsters are made specifically by MACE for this pepper spray gun and they fit neatly around your waist belt. Their black coloring makes it match anything you're wearing, and because it's small it won't look cumbersome or bulky.
Pepper Gun Holster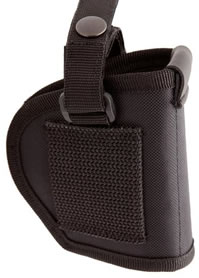 80105 - Nylon Holster