Japanese Ninja Star
Moon Throwing Star
Get yourself your very own Ninja Moon Throwing Star to become the ultimate ninja thrower. These ancient weapons were used to inflict damage and injury from a distance. Sharpen your ninja skills with the perfect shuriken!
Features
Each star has a 4-inch diameter across

Sides are dull but the points are sharp to make it easy to handle and throw

Comes in a nylon carrying pouch for safety purposes

Designed in the traditional authentic Japanese style

Made of stainless steel
Senban Shuriken
Moon throwing stars are also known as shuriken in Japanese which literally translates to hidden hand blade. In feudal Japan, they were used as supplementary weapons to the sword and often had an important tactical effect in battle. Because they were concealed weapons, ninjas could pull them out sneakily at critical moments. Contrary to popular belief, they were not primarily intended as killing weapons, but rather in a secondary role as a nuisance or distraction. The moon design is called a senban shuriken.
Ready to Become a Ninja Warrior?
Learn the ways of the mystic ninja with their nearly invisible approach and lethal skills to instill fear in your enemies and protect yourself. Practice Shurikenjutsu, the art of throwing a shuriken, as a first step! Get your moon throwing star today. Scroll up and click Add to Cart.
4 inches across. Includes nylon carrying pouch. Item Code: JL-SS2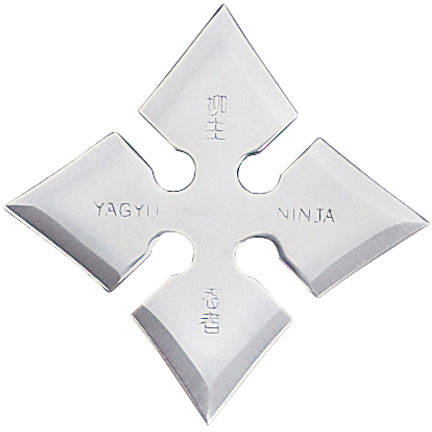 Classic design of the ultimate ninja thrower.