Your order is processed and shipped on the very same or next business day. You will receive a tracking number once your order ships letting you track your package on its way to you.
For orders $50 and above
Flat rate of $4.99 - $7.99 otherwise
Most orders ship US Mail
USPS and UPS Deliverabilty
Description
Mace Triple Action Personal Model - Belt clip makes this unit ideal to use while walking or running. Keeping yourself safe while you're exercising is simply smart because you don't know what can happen along the way.
Triple Action Mace
We certainly don't want you to be paranoid or to be scared of going outside, but we do want you to be prepared to take care of yourself if something happens. A can of pepper spray weighs hardly anything and won't slow you down. But it can be your best friend if you get attacked by some pervert or mugger trying to take advantage of you.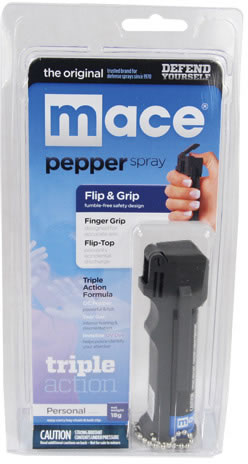 Features flip-top safety cap, finger-grip dispenser, belt clip, and keychain.
18-gram unit sprays 8-12 feet.
Contains 20 short blasts or 10 one-second bursts. Item 80136

Some states have restrictions on Pepper Sprays. Check if your state has restrictions here: Shipping Restrictions
Mace Pepper Spray A Good Choice For Self Defense
When you are in a situation where your life could be in danger because you've been accosted by some perpetrated, it is important that you are able to defend yourself. When you say self-defense it doesn't mean fighting or with a gun, it can be with non-lethal means such as Mace triple action spray.
Mace pepper spray is a great self defense weapon since it can be hidden in your pocket, on your keychain, or in your purse. It is a great weapon for women who are most vulnerable, especially when they are out exercising. Criminals always go for the easy target and women are the most vulnerable especially when they are not paying attention to their surroundings.
It is important that you buy a quality can of mace pepper spray since some of the cheap knockoffs may not work as well or even at all. The last thing you want is to be in that life or death situation and have the pepper spray fail to work. Make sure you only buy quality pepper spray from a reputable dealer.
Be careful with the pepper spray that you don't accidentally spray it in your own eyes. It is non-lethal but will create a very strong burning sensation which may include temporary blindness.
Be confident when you're out in public and not worry about some perpetrator taking advantage of you. With the Mace Triple Action safely hidden but easily accessible, you can regain your confidence wherever you go.
It comes in either aerosol or gel form but both yield the same devastating results. Be smart and protect yourself at all times. You never know when you're going to need it, so be safe out there.
You may also be interested in