Lil Guy Stun Gun
This tiny stun gun is now one of our highest voltages!
Advances in technology keep making self defense devices
smaller but more powerful.
No need for bulky or oversized clunkers anymore. All your protection needs in one small package.
Don't let the name Stun Master Li'l Guy fool you. It has a beast inside just waiting to be released. Just press the shock button and the Lil Guy thrashes 60,000,000 volts out of the metal probes.
Easy Operation: The safety switch is off when in the down position, the middle position is the super bright LED flashlight, and in the up position, the shock is turned on once the trigger is pressed.
Rechargeable: Plug it into a regular household outlet to bring it back to full strength.
Tiny Stun Gun Features:
Super Bright 120 Lumens LED flashlight

Built-In Retractable Charger

Comes with FREE Nylon Case

Heavy Duty Prongs That Won't Break

Has A Rubberized Coating For A Non-Slip Grip

It Measures only 3-3/4" x 1-1/2" x 3/4"

4.2 milliamps

Available In 6 Colors: Black, Pink, Purple, Red, Green, and Blue
You can see full instruction on How to Use the Stun Master Lil Guy Stun Gun.
Some states have restrictions on Stun Devices. Check if your state has restrictions here: Shipping Restrictions
Lil Guy Stun Gun Review
The Li'L Guy stun gun is a small and compact, but powerful self defense tool you can be confident will help protect you should you be accosted.
It comes with a holster you can put it in and carry on your belt. This keeps your self defense weapon readily available so you can access it quickly when the need arises.
The Lil guy is a new generation of stun guns built with solid technology that allows it to deliver a superior stunning effect. You can literally hear the difference when comparing it to other, even much larger stun guns.
While smaller than any other stun device, the microcircuitry inside the unit delivers a stepped-up output that clearly outmatches its bigger competitors. In fact, it has one of the strongest outputs of any stun gun on the market.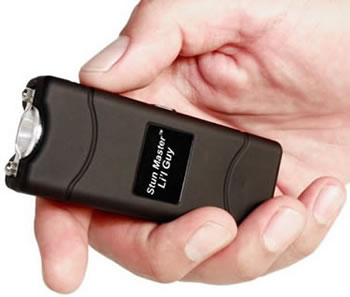 Although tiny and innocuous-looking, its durable construction is evident as soon as it's held in your hand. There is a rubberized coating on it that makes it easy to grip and hold onto. Ergonomically correct, the controls are easily manipulated using only your thumb.
The on/off switch has three positions. From the bottom off position, you slide the selector switch up one time to use the very bright 120-lumen flashlight. The convenient LED light is useful when you need extra light at night opening a door, looking for something, or blinding an attacker by shining it in his eyes.
Sliding it up one more position engages the stun circuitry and a red light turns on indicating to you that the device is ready to give a serious shock. Once in the on/stun position, move your thumb to the discharge button and press it to deliver the shocking electrical effect.
The Stun Master Lil Guy stun gun is rechargeable and doesn't need batteries. It has a retractable plug that extends out so you can plug it directly into a regular household outlet. There is a button on the bottom of the unit that you depress and then slide so that the plug prongs extend outward. This feature ensures you won't accidentally extend the plug.
To retract after it is charged up, remove the unit from the wall outlet and then depress the plug button and slide it back inside. The plug remains hidden when not recharging.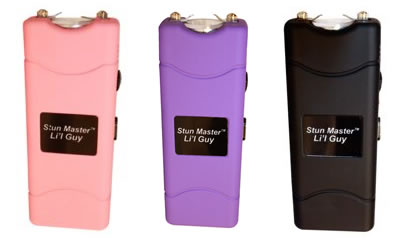 The size of this little stunner is only 3 3/4″ x 1 1/2″ x 3/4″. It can stay out of sight until you need to unleash its power.
Available in pink, purple, or black as well as six other designs. Can be purchased here at www.tbotech.com - Scroll up to buy one for yourself.
If you are just looking for how to use this guy click lil guy instructions.