Keep Your Pool Secured With A Pool Alarm
Most boys by the age of four are expert escape artists. My son is no different, and in fact, could probably teach Houdini a few things. He is a very active little boy, so he loves being outside. This can sometimes be the safest place for him…away from electrical sockets and the ability to climb up on the kitchen counters!
We have an in-ground swimming pool where we spend most of our time during the summer. Each year my son gets more and more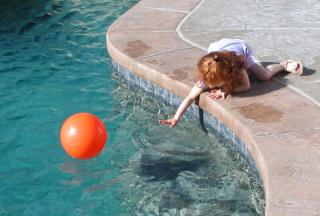 used to it – he is not as afraid of the water now and is comfortable jumping in and swimming. However, usually, he will not go in the water unless he has a "floatie".
Our pool is in our backyard, enclosed by a chain link fence with two separate gate entrances. As a safety measure, we have padlocks on both gates to prevent him – or anyone – from entering the area. We also have a poolhouse that borders one end of the swimming area. We keep the key to the padlocks inside the poolhouse out of reach of the kids.
One day at the beginning of this swim season, my son and I were lounging by the poolside. He was floating around the in his floatie and I was sitting nearby getting some sun and reading a book. It was a pretty hot day, so I had gotten up to go into the poolhouse to get him and me something to drink. The whole front has windows wall to wall, so he was in my view while I was inside – which was literally about 30 seconds to grab drinks.
Safeguard Your Pool With A Pool Protector Alarm
As I was walking back out, I was watching him through the windows. He was standing on the side of the pool just where the deep end starts, and all of a sudden he just jumps in – with NO FLOATIE! My 10-year-old daughter had just walked out to come swim with us, and she screamed "MOM" when he jumped. I came flying out of the door, ran across and scooped him out. He was fully underwater, but just barely below the top of the water. His instinct was to tread, however, he is not strong enough or experienced enough to keep his head above water.
Surprisingly, he did not cry. He just said, "Mom, that water is cold!" So, I grabbed a towel, wrapped him up tight and set him in a lounge chair. About five minutes later, he was sound asleep – I am pretty sure the panic and adrenaline wore him out. Since then, he has not tried that again and is back to only going in if he has his floatie.
When the realization of how this could have turned out hit me, I was mortified. What if I hadn't been right there? I had time to get my son out because I was a short distance from him this time, but the next time I may not be so close.
Shortly after this incident, I looked into purchasing a pool alarm. Even though we have locks on the gates to prevent entry without supervision…a terrible accident can happen even WITH supervision. As with all small children, you turn your head once for five seconds, and your life can change.
I found the Pool Protector Pool alarm, bought it, and as soon as it arrived, I set it up. It was simple to install and now I have peace of mind.  This alarm has a sensor that attaches to the poolside and detects movement. There is a base unit that is installed inside and sounds a loud alarm when movement is detected. It is tamper-proof, so if someone tries to uninstall it or break it, the alarm will sound as well.
When you have a swimming pool, you cannot go wrong with making sure you have all safety measures in place. There is no such thing as "too much" when it comes to protecting your children!