Home Protection Alarms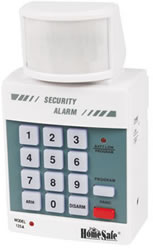 What does it take to help make your home safe? With our inexpensive wireless home alarms, you can effectively protect your home or apartment from intruders. With the following explanations, you will be able to decide which products you will need and can use to add some security to your residence.
Home Protection Alarms

The first barrier or obstacle to an intruder will be one of the infrared wireless alarms. You place these alarms at entrances where they will alert you if someone comes within the infrared barrier that is produced by the alarm. The Keypad Motion Alarm is fully programmable to allow a personal security code and an entry delay. This is so you can punch in your code before the alarm goes off. If someone other than you or a family member enters the infrared field of view, the alarm cannot be turned off and will emit the 105db alarm alerting you, neighbors, and hopefully scaring off the intruder.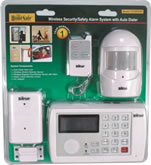 Why spend hundreds of dollars on a security system and pay monitoring fees when you can get the Affordable WIRELESS HOME SECURITY SYSTEM for a fraction of the cost? This easy to operate security system will sound an alarm and dial up 5 preset phone numbers to let you know motion has been detected or a door or window has opened in your home.
This security system incorporates many features that our customers have asked us for but couldn't find in a complete system.
Motion Detectors
This infrared motion detector alarm sounds an 80 dB alarm whenever someone comes within the range of the infrared zone. The zone detection coverage is 80 degrees horizontally out to 8 meters and 20 degrees vertically. 30-second delay allows you to move out of the way before the alarm or chime becomes activated. This infrared motion sensor alarm works great for announcing visitors to your home or to protect certain areas. The loud, motion activated alarm alerts you whenever someone breaks into the detection zone. Use at home or use at the office.
Window Alarms
To protect your windows, you can choose between either a vibration alarm or a magnetic alarm. A vibration alarm will sound off when the device feels vibrations or bumps on the window. The magnetic alarm will sound off when the window is opened and the magnetic contacts are broken. The Mace Window Alert is a vibration window alarm that you attach to your window. The door and window alarm uses the separation of the magnetic contacts to initiate its alarm. Both are dependable options for your windows.
See also: Door Opening Prevention Devices
Features of Home Alarm Systems
More and more homeowners are starting to get alarm systems installed into their homes to protect their property and their family. It was not that long ago that a home alarm system made a noise that was intended to wake the occupants of the home and the neighbors if an intruder tried to get into the house. But in the past few years, the technology surrounding home alarms has evolved and become much more comprehensive and advanced. Today, people can get several helpful features that make their home alarms much more effective.
One of the most significant advancements to come in the home alarm industry is the ability to subscribe to a service that monitors your house 24 hours a day. The service can see when alarms are triggered and can call your home to check on the status of you and your family. The subscription service can also alert the local authorities and get fire or police personnel to your home if that is necessary. The service can also contact rescue personnel and give them the pertinent details they will need to know before they arrive at the scene.
Smartphones
Smartphones have helped to make everything better and easier, including home alarm systems. There are several home alarm companies that offer the ability to integrate your smartphone with your home security system. You can monitor activity, get notifications when an alarm has been tripped and even arm or disarm your system from your phone. This can be a huge help if you are traveling and you want to monitor your home from the road. If you see that an alarm has been tripped, then you can stay in touch with the monitoring service and get updates on what the police find. You can also arm your alarm system from anywhere in the world.
As mobile communication technology continues to advance, we can expect home alarm systems to continue to evolve. Homeowners will continue to demand more features that will allow them the ability to monitor and protect their homes at all times. As more and more services are able to be integrated into home security, homeowners can feel more secure about their property and their families. It is all about making sure that your investment and your loved ones are safe. The more that we can do with technology, the better that we will be able to protect ourselves from crime.