Holed Handle Knives
For the ultimate control and accuracy, the stainless steel, holed handle throwing knife provides amazing balance during flight while also offering a supportive ergonomic fit in the hands. The optimal ratio allows throwers to feel the weight of the knife evenly and make more effective adjustments to improve flight through the air.
Reliable Feel and Precision
We understand what it takes to deliver a reliable feel and the precision construction of our throwing knives will have you thrilled by how easy they are to hold and release. These knives are designed to fly through the air consistently, with intricately designed tips that are sure to stick reliably to the target.
You'll be delighted by the 7.5" length of the knife, as well as by the gorgeous 440 steel build of the product, and is the perfect choice for knife throwers who range from beginner to intermediate in their skill level. Each stainless steel 2-piece set comes complete with a handy sheath pouch to store the knives until their time of use.
Easy to Throw for Beginners
Whether you're someone just getting involved in the world of knife-throwing, or already have experience and have found enjoyment in the hobby, you'll find these hole handled knifes a fun and high-quality addition to your knife-throwing arsenal. You'll experience reliable consistency and remarkable accuracy from an easy to throw knife that will help to develop your skill.
Whether you are looking to take your knife game to the next level, or are just getting started with the adventurous world of knife throwing, you'll appreciate the enjoyment, consistency, and quality of the durable steel construction and expertly crafted design. Enjoy a steady feel and long-lasting quality that you can depend on to practice your throws and become more proficient and effective with your motions.
Dual Tone Construction
The aesthetics and appearance of the knife have not been ignored, with a dual-tone construction with steel on one side and black on the other side. If it's a premium throwing knife you're looking for that will stand the test of time and not cost a fortune, look no further than our beautiful TBOTECH throwing knives that answer the call of excellence.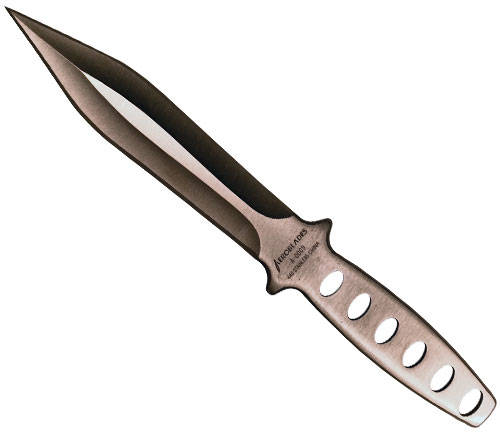 Holed Handle 2 Piece Throwing Knife Stainless Steel - Black on one side, stainless on the other.
7.5" Length, 2 Piece Set, made from 440 stainless steel, great beginner to intermediate throwing knife. Includes sheath pouch for knives.