Your order is processed and shipped on the very same or next business day. You will receive a tracking number once your order ships letting you track your package on its way to you.
For orders $50 and above
Flat rate of $4.99 - $7.99 otherwise
Most orders ship US Mail
USPS and UPS Deliverabilty
Description
This is a mini dummy dome camera made to look like a real IR dome surveillance camera. It has a red flashing light to help deter any criminal activity.
Get a Dummy Dome Camera
In today's 21st-century environment, safety and security have taken on even greater importance. Far too often, people who own homes and businesses, for example, are the victims of robbery or theft. In fact, a burglary takes place in the United States approximately every eighteen seconds, with some areas of the country having a higher burglary rate than other regions of the country. The Dummy Dome Camera is an innovative way to ward off these potential dangers.
This is a model that has the look of a high-priced high definition surveillance camera when in actuality, it's a fake. It has the shape and the design of the real ones, and a flashing LED gives off the effect that is a surveillance camera at work making it a model that could fool even the most sophisticated of burglars.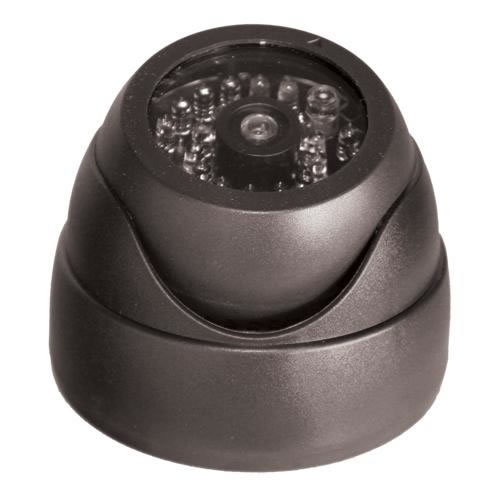 Specifications: Measures 3 3/4" x 2 7/8"
Requires 3 AA batteries, not included.
But why purchase a fake surveillance camera?
The number one reason is budget. In today's economic times, some people are unable to shell out the high price tag for one of the real cameras. A genuine surveillance camera can cost anywhere from $100 to over $1000. However, the Dummy Dome Camera is less than $10.
Do fake surveillance cameras work?
The answer is yes if they are constructed to look genuine, such as having LED lights as the Dummy Dome model offers. According to a study done by the University of North Carolina's Criminal Justice Department, 60 percent of burglars are far less likely to break-in to a residence if they see a house is equipped with a security system. Place the Dummy model outside your home in a prominent place where it is noticed, and you could be well on your way to effectively protecting your house.
Installing the Dummy Dome Camera is easy
With genuine security cameras, care must be given to make sure it is installed correctly and in the right position. With a fake security camera, you need only to install it where you feel appropriate, such as by your back or front door where a potential burglar may go. Unlike genuine security cameras, there is also no maintenance. In other words, there's no worry about a camera not working. Simply clean the models once in a while and replace the three AAA batteries, not included with the dummy camera, as needed.
Pros:
The Dummy Dome is affordable at under $10.

It is easily installed.

No maintenance is required other than a quick once-in-a-while cleaning and replacing the three AAA batteries as needed.

Fake security cameras that look real have been shown to ward off burglars the same way genuine models do.
Cons:
The Dummy Dome is fake. So no recording is happening.

The three AAA batteries needed for the camera to operate are not included.
The Dummy Dome Camera is an affordable way to keep your home safe. Because the cost is so nominal, consider purchasing more than one for your home. For example, you can place one of the models at your front door and another at your back door.
You may also be interested in