Dorm Safety Kit
This dorm safety kit can protect any college dorm room for either a male or female occupant.
Your first concern in a strange new place is the safety and security that you used to take for granted at home.
Now you can have that comforting feeling in your new "home".
When you're alone in your dorm room and just want to feel safe and secure behind your door, the sturdy door stopper will prevent someone from getting in.
No longer are you worried about your brother or sister going through your stuff. Protecting your belongings from real thieves is a consideration you now have to have.
You never know what kind of people live in the same building as you and you don't want them stealing your things. Hide your valuables away in a diversion safe. These hidden safes are one of the last places would-be thieves will look. Of course, you don't want to tell anybody what you have or else the cat's out of the bag.
And if you want to protect an area while you're away or just want the peace of mind that a motion sensor alarm will bring, you can set up the mini travel alarm to scare off an intruder or warn you of impending danger. This personal security alarm also pulls double duty so you can take it with you as well.
Dorm Safety Kit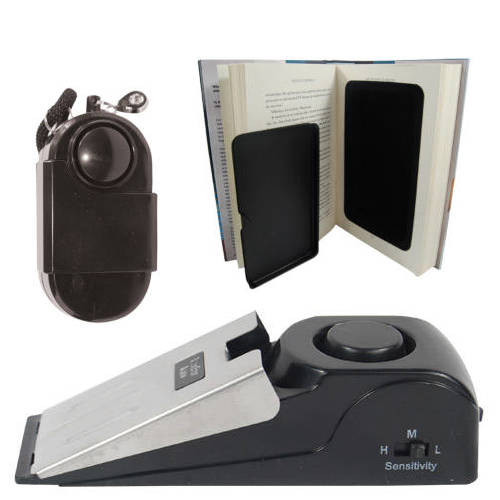 Always brace your door at night. The extra security this door wedge brings will help you sleep better. And you need all the sleep you can get with all the studying and stress you're under.
Hide small valuables in the hidden book safe. Thieves will rummage through your underwear drawer before they stop to read a chapter or two.
Use the Mini Alarm with Infrared Sensors to protect an area or you can even take this with you and use it as a personal alarm. Pull the cord and an ear-splitting siren will draw attention to your situation.
Keeping Safe on College Campuses
Many students attend universities nationwide to better educate themselves and set themselves up for the future. These students are there to learn and have new experiences, but there are dangers lurking on all college campuses. How to keep safe on college campuses is something each student should understand and practice to ensure a good learning environment.
Staying Safe at Higher Education
Crime on college campuses can range from victimless crimes such as tagging or escalate as far as murder. There are tips you as students are able to practice to keep yourselves and your belongings safe.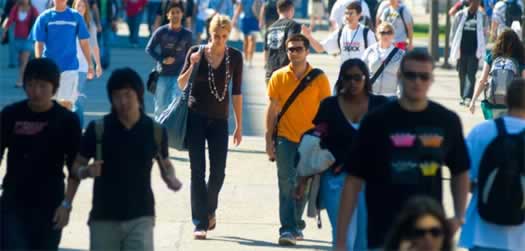 College Safety Tips
Keep sight of your belongings. The university may be your home, but the building houses many people you do not know. Do not leave belongings unattended, and always shut and lock your door, even if you are in your dorm room! Be sure to report stolen items as soon as possible, if you are ever robbed.
When traveling on campus, know your immediate surroundings. Many universities and colleges have emergency phones placed around campus. When you first arrive, locate the general vicinity of these phones in case of an emergency.
At night, travel in pairs or greater numbers. Potential criminals are less likely to bother multiple students at one time. If you are walking to your vehicle, keep your head up and off your phone. A potential victim being distracted by a pricey phone is a signal that you will be an easy target. Keep your keys in hand so you do not have to rummage through a purse or bag, and lock the doors immediately after getting into your car.
Most universities and colleges have campus security or police as well. Program their direct number into your phone if you find yourself or others the victim of a crime. Report the crime immediately so the details are fresh, and be sure to give the police or security officers the most information you can on the criminal's physical appearance and mode of transportation, if applicable.
If there is a greater threat, such as a bomb scare or mass shooting, above all else keep calm and stay where you are unless told otherwise by the authorities. Moving around, or trying to get closer to the scene, will only hinder the police's attempts to catch the criminal and put yourself in potential danger.
Even though crime is on the rise around the country, you can take some precautions around campus to keep safe and better report a crime. Using these tips, you as a student will be able to also feel safe while you attend classes.
Protect yourself further by ordering one of our Campus Safety Kits! They have the tools you need to help secure your room and yourself.