Door Entry Alarm
In order to gain easy access to your home, burglars will first try your door to see if it is unlocked. With this product protecting you, as soon as they touch the doorknob, this alarm will sound off alerting you to their attempt at entry.
This entry alarm utilizes dual-sensing technology to enable it to protect both metal & wooden doors. For wooden doors with metal knobs, the touch sensor will detect a person touching the outside doorknob and will instantly emit a loud 110 dB alarm to scare him away and alert you to the attempted entry.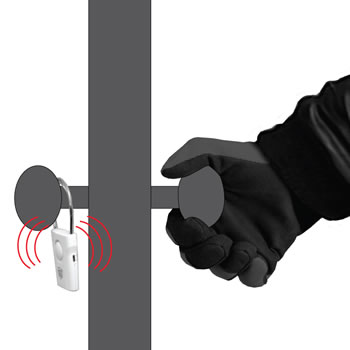 Entrance Alarm for Your Door
Even if he is wearing gloves, the Pro-Tec-Door Entry Alarm will sound as soon as the outside knob is touched. For metal barriers or those with wooden or plastic knobs, the vibration sensor will detect the attempted forced entry. You can use the chime mode at home to notify you of visitors or in a business to announce customers.
Works on any type, including metal doors and plastic doorknobs

Touch sensor detects when someone touches the outside handle, even with gloves on

Vibration sensor detects any attempted forced entry

Loud 110dB alarm

Scares away intruders before even entering your home

Alarm or pleasant chime modes can be selected

Completely wireless with a battery life of approximately 15,000 hours

Compact and light, great for travel

Simply hang over the knob, no wiring required

Requires (3) AAA batteries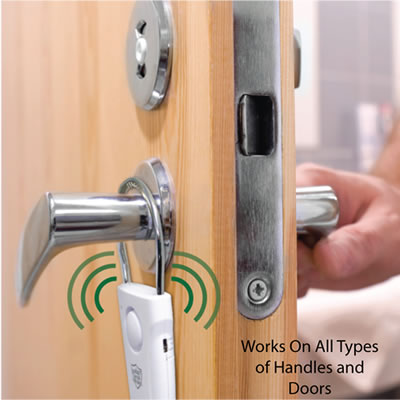 In Chime mode, activating the unit will cause the chime to sound twice and the unit will reset itself in 30 seconds.
In Alarm mode, it will sound continuously for 60 seconds and rearm itself after a 6-second delay.
Low Battery Warning: The three (3) AAA batteries can last approximately 1500 hours in standby mode. If the batteries are running low, a beeping sound will indicate it is time to change the batteries.