Concealed Carry Tactical Bag
The Rothco brand Concealed Carry Bag is the ultimate covert tactical bag to take to the range or covertly transport your handgun wherever you go.
The large main compartment has been designed with a U-shaped zippered flap allowing quick and easy access to the inside of the concealed carry bag giving you the flexibility to carry an assortment of gear with you.
Concealed Carry Pistol Bag
In addition, Rothco's Concealed Carry Pistol Bag features several pockets that are great for storing everything from your ammunition, an extra magazine, or even your sunglasses.
The tactical bag includes one large & 2 small front zippered pockets, one large side pouch with flap and quick-release buckle closure, and one large side zippered pouch with exterior MOLLE Attachments.
The concealed carry bag is also equipped with 2-D rings, top carry handles, and an adjustable shoulder strap. The bag is great for the military, security and law enforcement personnel, or any lawful gun owner with a CCW.
Function, style, and comfort were top of mind when designing this concealed weapon bag. It allows quick access and is discreet. We hope you'll enjoy its many features when going to the range for some target practice or for your normal EDC items.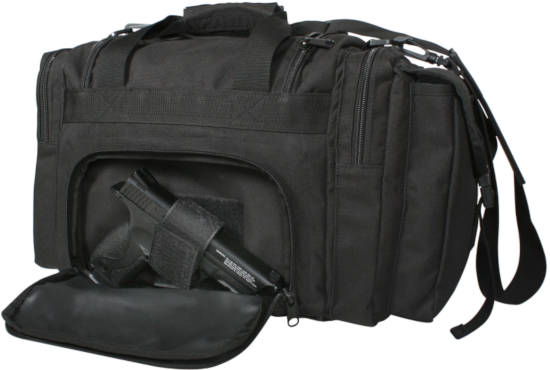 Features:
Ultimate Covert Tactical Bag To Take To The Range Features A Concealed Carry Pocket
Rear Zippered Concealed Carry Compartment Is Equipped With A Hook And Loop Attachment Engineered To Holster Most Hand Guns
Main Compartment Is Designed With A U-Shaped Dual Zippered Flap For Quick And Easy Access To Your Gear
Side Zippered Pouches With Exterior MOLLE Attachments
Adjustable / Removable Shoulder Strap And Top Carry Handles
Multiple Side Pouches Perfect For Ammo, Shooting Supplies, Sunglasses, Etc.
Constructed With A Heavyweight Polyester Material
D-Rings And MOLLE Webbing Provide Options For Additional Attachments
Range Bag Measures 12" X 7" X 10"
Weight: 2.25 lbs
Concealed Carry Tactical Bag Video Demonstration
What is a Concealed Carry Bag?
Concealed Carry Bags are bags designed to allow the user to carry a concealed firearm in a bag. The bag typically has a compartment specifically designed for holding a firearm, as well as other compartments for ammunition, spare magazines, and other items. The concealed carry bag is designed to be worn on the body, typically over the shoulder, and can be worn over a jacket or a coat.