Collapsible Bo Staff
Two expandable batons are joined together using a center connecting coupler creating a solid piece of workmanship.  The result is a Collapsible Bo Staff ready for fighting or for practicing your martial arts technique.
Collapsible Bo Staff
This new-to-market product can be used as either an expandable bo staff or the two pieces can be used separately as two regular steel batons. When the bo is taken apart, you will be able to screw on the included end caps to make your separate telescopic batons functional on their own.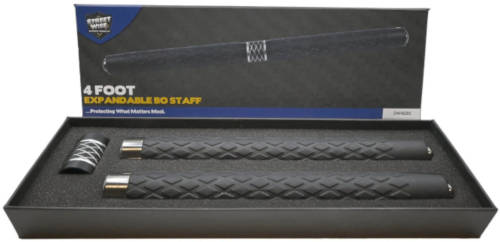 The collapsible bo staff is 51 1/2 inches when fully extended. To extend the staff, hold in the center and use a quick twisting motion with your wrists. This automatically extends the two lengths of the bo and locks them out, so they stay in place.
At just over 4 feet long, the collapsible staff is ready to fend off an attacker and keep them at a distance while you are able to use the solid steel staff as both a striking and a blocking weapon. Not exactly a lightweight piece, this two-piece expandable bo staff is satisfyingly hefty while it remains workable and usable as a self defense weapon.  It weighs in at 41.7 ounces or around 2.6 lbs.
Bo Staff, Collapsible - Features:
Expands to 51 inches and locks into place with just a quick twist
Can be used as an expandable 51 inch Bo Staff or two 26 inch batons
Includes two end caps that are needed when using as individual batons
Long reach keeps you a safe distance away from your attacker
Rubberized diamond design ensures a firm grip
Great for training or self-defense
Made from military-grade aluminum alloy
Bo staff length collapsed 19 1/4"
Bo staff length expanded 51"
Collapsible Staff Box Contents:
2x Streetwise 26" Retractable Steel Baton
1x Connection to form the 51" Bo staff
2x End Caps for the individual batons
These extendable staffs are solidly built, made of high-quality metal, and are built to last. A telescopic bo staff is a great replacement for your traditional wooden staffs that are not capable of collapsing. At only 19 1/4 inches when closed, it is also portable and easily carried in a bag or inside your vehicle.