A Guide to Choosing a Home Security System so You Can Sleep at Night
Before attempting to enter a home, 83% of burglars will try to determine if there is an alarm system.
Burglars don't want to be caught in the act of breaking into a home and a home security system greatly increases that risk. But what kind of system offers the greatest protection for your home?
Whether you're trying to protect your home, your valuables and your family or just want to monitor what's going on while you're not there, there is a solution that's right for you. With so many options available and all the details to know, you need a guide to walk you through determining what works for your security needs.
In this article, we go through all the features that home security systems have to offer. Keep reading to learn more.
Who Needs a Home Security System?
Home security systems offer a range of different services to meet the needs of many different people. These are some of the most common people requiring home security:
Parents who work late and can't be home when their children arrive from school but want to ensure their safety.

People who own pets and want to make sure they're safe.

Those who store valuables requiring 24/7 protection in their home.

Anyone who receives frequent packages and wants to ensure their deliveries are safe until they can get to them.

People who live in cities with high burglary rates.
Do Your Research
Home security is estimated to account for $47 billion of the global security market by 2020. The companies and systems you can choose from are many.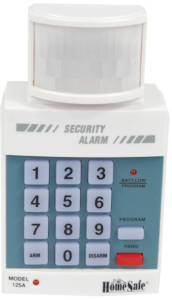 Consider these items when you're researching home security systems:
Is it user-friendly? Some security systems are difficult to use while others trigger automatic help from an HQ that can talk you through your next steps.

Is it easy to install? If you're not the technical type, a solution that comes with the installation may be something you want to consider high on your priority list.

Is it monitored or unmonitored? You won't always be able to call authorities in the case you need to and monitored systems give you that peace of mind.

What is the monitoring connection? Choose from a landline, broadband or cellular connection.

Do you need added features? Being able to adjust the temperature in your home or connect to an Alexa-type device might be something you'd like to have.

What does it cost? This shouldn't be your biggest concern when it comes to security. Though you may not require a top of the line security system, you can't put a price on your safety and the safety of the people and things inside your home.
Monitored Versus Unmonitored
When an alarm is tripped with a monitored system, a monitoring headquarters receives an alert and can call the authorities if necessary. If your system is unmonitored, you self-monitor the system and the responsibility for reacting to the alarm is on you.
We'll go into more depth below.
Monitored
A monitored home security system is connected to a monitoring center 24 hours a day, 7 days a week. It's connected to the system via either your landline, broadband internet connection or through your cell phone (more about that later).
A system that's monitored is generally more expensive - there's usually a monthly fee for this service. Most companies that provide monitoring require a 2-5 year contract that includes a cancellation fee.
Unmonitored
In most cases, unmonitored systems aren't actually unmonitored - they're just monitored by you instead of a headquarters.
When an alarm is tripped, a self-monitored system will send you alerts, usually via your cell phone. It's up to you to call the authorities and take the next steps.
Unmonitored systems are less expensive. Without the connection to a monitoring station, there's no additional monthly fee.
If your main concern is to check on your deliveries, monitor your pets or watch your kids come home from school, a self-monitored system might meet all of your requirements.
Connection
There are three options in terms of your home security connection: landline, broadband, and cellular.
Landlines are best if you live in an area with poor cellular or internet connection but they're also easier for a potential burglar to disconnect. If you're looking for a system with home automation features like temperature control, those can only be provided through a cellular or broadband connection.
To find out more about the right connection for you, we've detailed each below.
Landline
Landline is the traditional method of home security. A series of wires are installed through your phone line, meaning the installation process is complicated.
This is the cheapest option on the list but it's also easy to tamper with because connection lines can be located and cut. However, in the case of a power outage or your internet goes down, your landline will still work - you don't have that kind of reliability with a broadband connection.
There is no self-monitoring with a landline connection. These home security systems connect your phone line to a monitoring center.
Broadband
A broadband connection works through your internet connection so it's generally a quick and painless installation process.
Broadband can be monitored or unmonitored. When it's monitored, it uses your internet connection to alert the monitoring station when an alarm is tripped. When it's unmonitored, it uses your internet connection to send an alert to your cell phone.
Broadband is difficult to tamper with because there are no physical lines to be cut. But if your internet goes down, your security system goes down too (unless you have a backup battery installed).
It works 4 times faster than a landline. Although it's more expensive than a landline connection, it's cheaper than a cellular connection.
With a broadband connection, you also have the option of adding home automation features.
Cellular
Like broadband, a cellular connection doesn't use any wires so it's difficult to tamper with. Instead, a cellular security system sends a signal through a cellular tower.
Cellular connections are the most reliable because they don't depend on vulnerable phone lines or an internet connection. They're also faster than both landline and broadband.
You can either have a monitored cellular connection or you can monitor it yourself. A cellular connection is easily installed and you receive alerts directly to your cell phone.
This is the most expensive option on our list but it's the new standard when it comes to a home security system. You can add all kinds of home automation features to make this system work for your needs.
A Note About Encryption
Although cellular and broadband connections are more difficult to tamper with than a landline, they have their own unique security risk that you should be aware of.
Tech-savvy potential intruders know how to get into your system through your wireless connection. This can disable your system and allow them to enter your home unnoticed and unrecorded.
The solution to this wireless security threat? Encryption.
Enabling encryption on your wireless connection scrambles the information sent into the wireless code making it nearly impossible for others to access. Using a unique and hard to guess password is also an important step to securing your cellular or broadband home security system.
Costs
Keep these three items in mind when you're researching.
Connection Type
Put simply: landline is the cheapest option, broadband is second and a cellular connection is the most expensive.
Landline costs go up when you add a monitoring service. Adding home automation features to broadband or cellular will increase the cost of the basic package.
Five Common Fees
Keep track of these five common fees.
Monthly service fee: Not all systems will charge a monthly fee, but if you're looking at a monitored system, they're almost guaranteed.
Activation fee: This is a one-time charge for activating your system.
Installation fee: If you're installing the system yourself then no bother, but if you're having your system installed, that's going to cost extra.
Relocation fee: Some companies charge this fee if you decide to move and keep the same setup.
Cancellation fee: Some home security systems come with a contract and if you want to cancel before that contract is up, you'll be charged.
Package Type
Some are sold in a package and the package you choose depends wholly on your needs.
A basic package will include alarm monitoring. This includes either a monitoring station that receives an alert when an alarm is tripped or notifications sent to your cell phone when it is an unmonitored system.
If you want to be able to access your system online or on your cell phone and receive additional alerts to your email, you're looking at a middle-range package.
If you want to have home automation features that allow you to control the temperature inside your home or connect to an Alexa-type device, these are available in high-end packages.
Alternative DIY Solutions
More people are renting their homes today than at any other time since 1965. Almost 37% of Americans are renters. If you rent your home, you likely don't want to invest in something that you will be charged to take with you.
On top of that, trends show that more people are living in multi-family homes like apartment buildings than single-family dwellings. High-rise apartment buildings accounted for 40% of all new construction in 2014. An apartment doesn't require the same kind of setup as a home does.
If you find yourself fitting into one or both of these categories, there are alternative home security solutions that you can install on your own and that will keep you equally as safe.
Door Security
Your front door is the first entrance to your house and the first target for break-ins. In fact, 34% of burglars enter through the front door of a home.
Securing your door is your first line of attack. This can be as simple as a device that prevents the door from opening or installing an alarm that notifies you when the door is being tampered with.

Security bars physically stop your door from being opened. The door stopper is placed between the door handle and the floor to make the door unmoveable. The more it's pushed, the tighter the door stopper is wedged.
Another option for door security is to install a door alarm. Door alarms alert you when someone has touched the outside of your doorknob and works on both wood and metal doors.
Window Alarms
If your front door is secure, the second most common way for a burglar to enter is through a first-floor window. 23% of burglars gain entry to a home this way.
To be on the safe side, you should be securing all of your windows with window alarms no matter what floor they're on.
A window alarm sounds in two ways: either through vibration or when someone tries to go through a window.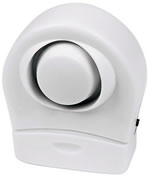 Alarms that work via vibration are activated when a window has been broken or when someone has attempted to open it. When the glass is hit or knocked, the alarm is tripped.
Other types of window alarms will sound when the window is opened.
Infrared Motion Alarms
Infrared alarms are activated by motion. An infrared sensor beam creates an invisible boundary that will activate an alarm when they are crossed or entered.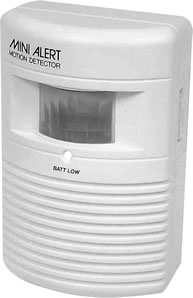 Because they are imperceivable to the human eye, these subtle alarm systems are great for protecting the areas in and around your home. With a little creativity and more than one infrared sensor, you can create your own home perimeter defense.
Some infrared motion sensors are made specifically for use outdoors while others can be used on the inside of your home.
Home Security: A Strategy of Self-Defense
A home security system can protect your valuables, your family, your pets and give you the peace of mind to sleep soundly at night.
For more strategies on how to protect yourself and your home, check out our Bestselling products.
Check out more blog entries or shop our best sellers. Blog readers get 10% off! Use promo code: blog10 during check-out.