Your order is processed and shipped on the very same or next business day. You will receive a tracking number once your order ships letting you track your package on its way to you.
For orders $50 and above
Flat rate of $4.99 - $7.99 otherwise
Most orders ship US Mail
USPS and UPS Deliverabilty
Description
This emergency knife is truly multi-purpose. Quickly and easily escape a stuck seat belt or bust through windows with the glass breaker that's on the handle. Sturdy, strong, and just slightly impressive.
Alpha Tactical Knife
You'll always be prepared with the ALPHA TACTICAL KNIFE!
Sturdy stainless steel blade with an anti-glare black finish also has a window breaker on the pommel. Use the butt of the knife handle to smash through any window.
You can also zip right through a seat belt with the integrated seat belt cutter. The razor-sharp blade melts through any restraining device with ease.
Featuring a rugged belt clip to keep on your side or in your pocket and a nylon sheath with belt loop is included.
Covered by a 1-year warranty.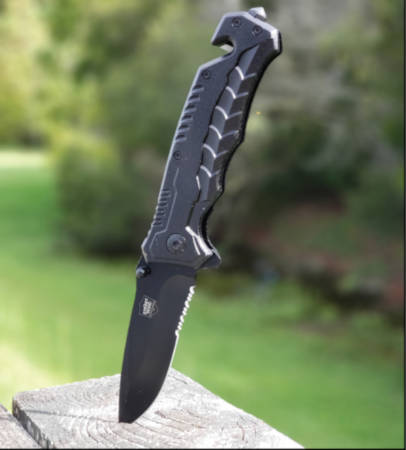 Emergency Knife
The emergency knife has an easy one-handed opening so you can have the blade out in an instant.
Features:
Stainless Steel Blade

Window Breaker

Seat Belt Cutter

One-Handed Easy Opening

Nylon Sheath with Belt Loop

Belt Clip

Warranty: 1 year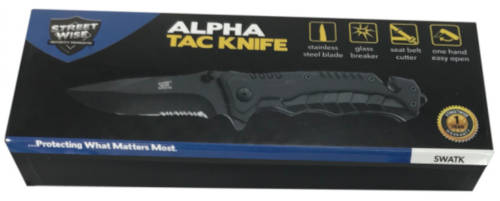 Contents:
Alpha Tac Knife

Nylon Sheath with Velcro Closure
Reviews
You may also be interested in