A Voice of Reason In Self Defense
We mostly only hear about how bad guns are. Seldom do we hear about the merits of being able to defend yourself. It is, therefore, refreshing and welcome to see an authority figure not only standing up for being able to protect one's self, but actually recommending citizens legally arming themselves.
This story is of one such citizen whose life was saved only because he had his personal weapon on him during a car robbery.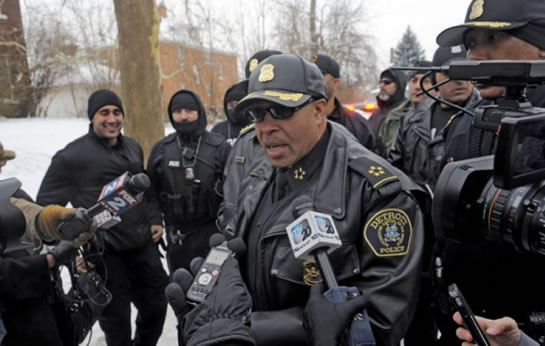 Detroit Police Chief James Craig says legal gun ownership in his city can help stop crime. (AP/Detroit Free Press)
In a city plagued by chronic unemployment and crime and guarded by a dwindling police force, residents of Detroit are increasingly taking protection of themselves, their families and property into their own hands. Those who do so responsibly have the blessing and backing of Detroit Police Chief James Craig.
"When you look at the city of Detroit, we're kind of leading the way in terms of urban areas with law-abiding citizens carrying guns," Craig said recently.
The chief's call to arms, which first came in December, 2013, has been answered by thousands of men and women tired of being victims and eager to reclaim their beleaguered city.
Without this good man's personal weapon on him, he would be dead and the criminal would be alive – probably never caught.
Kudos to Chief Craig for encouraging a responsible citizenry to arm themselves against the ever present violence in Detroit.
Check out more blog entries or shop our best sellers. Blog readers get 10% off! Use promo code: blog10 during check-out.