7 Security Products to Make You Feel Safer
Sometimes the reality of the world is pretty scary.
Property crimes in the US in 2015 resulted in losses estimated at $14.3 billion. The total value of reported stolen property alone, not including damages, was $12,420,364,454.
Violent crimes are on the rise in the United States, especially in urban areas. Murder rates are up 11% from 2016.
What can you do to protect yourself and boost your safety in 2017? Here are seven security products to do just that.
1. Surveillance Cameras
A study at UC Berkeley linked the presence of surveillance cameras with a statistically significant drop in property crimes in areas where cameras are placed.
Fortunately, there are a variety of security cameras available on the market today.
Dropcam is an online cloud-based video system that works over WiFi. With it, you can stream video, hear audio, and speak through the device.
Designed to help you watch over your home, kids, and beloved pets, Dropcam allows both remote surveillance and two-way talk from anywhere.
With it, you can make sure your babysitter is acting appropriately, say hello to your dog from work, or even make sure no one has entered your home while you were out.
Dropcam is set up to notify you if it senses motion, day or night, at which point you can check the video feed, and check in.
AT&T Digital Life is a simple security system linked through an app, with optional add-ons like break-sensitive sensors on windows, a remote way of locking or unlocking your doors, and a camera to check if you remembered to close the garage door.
Netatmo Welcome is a futuristic-looking camera designed to alert you anytime someone enters your home. Designed to be both attractive and functional, Netatmo welcome lets you know who is on your doorstep using its facial recognition technology.
It has a 130-degree range and infrared LED, so this security product can alert you to intruders all over, at any time.
For more information on security cameras and which may be right for you, check out our post here.
2. Fake Security Cameras, not Fake Security Products
Unwilling or unable to shell out for a high-tech security camera?
Convincing fake security cameras can do a lot to convince thieves to leave your property alone. Indeed, many stores use dummy surveillance cameras to ward off theft without breaking the bank.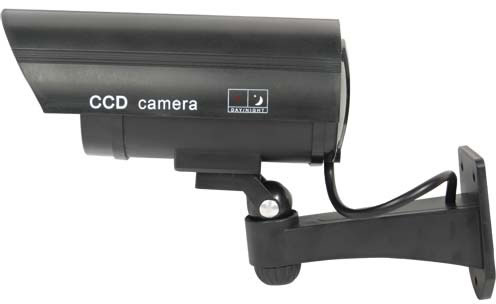 Fake security cameras may not help you much in the case of an actual incident, but they work well as a deterrent.
Even better? They're a fraction of the price of real security cameras. Not terrible for some peace of mind, huh?
3. Creative Safes
Even safes have their weaknesses.
Sometimes their appearances make them targets. Sometimes their keys or codes leave them open to criminals.
Why not try something a little different from the traditional?
Some safes are much more easily overlooked than others. Why? Because they look like everyday objects.
For example, one might look like a book. It's doubtful a robber is going to pause to study some literature.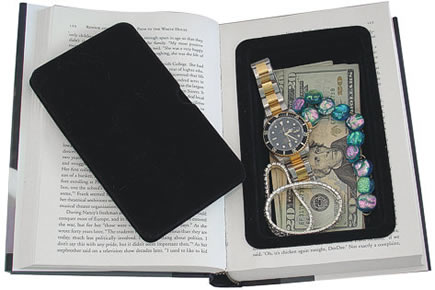 A book safe also works well in a dorm room. It's a good place to keep your passport, jewelry, and whatever small things you're worried about your roommate stealing.
Feeling the need for something a little more hardcore?
There are also offers like biometric safes that scan your fingerprint to open. A little harder to overlook, but a lot harder to break into.
The drawback?
It'll set you back quite a bit more than one that looks like a book.
4. August Smart Lock
Keys are a thing of the past, and now, with the widespread availability of smartphones and advanced technology, so are code locks.
With the August Smart Lock, not only do you not need a key or code to open your door, but you don't even need to be present!
Remove the thumb latch, install the cylinder on the inside of the door, and attach your smart lock to the deadbolt. Now, you can open your door whether you're standing right outside, or at the office letting the dog walker in!
5. Multi-functional Lighting
There are a variety of lights available to use as security products as well.
At the most basic (and least expensive) level, you can find motion-activated peel and stick lights. Stick one where you park, one outside your door, one on your porch.
Not only will they help you get into your home safely, but they also act as a nighttime silent alarm system. Whenever someone walks by, the light alerts you to their presence.
Slightly more complex, there are also lights available that you can turn on and off from your phone. Out later than you expected? Flip the light on and immediately make it look like someone is home!
Looking for top of the line security lighting?
Sengled offers its product, the Snap, as the answer. Not only does the lamp turn on when someone passes by, but it also has a camera and facial-recognition software to make sure it only scares off people who aren't you or your loved ones.
Pretty snazzy for a lamp, huh?
6. Security Bar
The security bar for doors is essentially the equivalent of the CLUB security bar people place on their car's steering wheel.
Compatible with both sliding and hinged doors, this security bar can withstand up to 350 pounds of force. Simply lodge the bar between the floor and the door, and it's not going to open unless under some serious pressure.
7. Security Products on the Go
Hypothetically, you could live your whole life at home, but it's fun to get out once and a while, right? However, leaving your fortress doesn't have to leave you at risk either.
The solution?
Portable security products that protect you while you're out on the road!
You can find portable locks available that you can add to any door. Perfect for hotels and dorms, this gadget will protect you from coast to coast.
Worried the lock will fail? There's also a portable security system that sounds an alarm if the door is opened.

Now, it's your turn to boost your security.
Curious about what else you can do to protect yourself?
Check out our website to see what we can do for you!
Check out more blog entries or shop our best sellers. Blog readers get 10% off! Use promo code: blog10 during check-out.