The Radio Spy Camera for Home or Wherever
This is a GREAT way to see what's going on at home when you aren't there! And you can listen to music when you don't need the camera…or even while it's recording! The Spy Radio Camera is one of the most discreet hidden cameras we carry. It can be placed pretty much anywhere...all you need is an outlet.
From The Beatles to The Moody Blues, from Bach to Mozart, from Leann Rimes to Garth Brooks, whether you're at a backyard barbeque, at a picnic, or at the park, or maybe while hanging out near your vehicle in a busy parking lot hours before a sporting event (tailgating), you can have this superb sound system with you playing all of your favorite tunes.
Record the whole party!
If you have teenagers, and need a night on the town leaving them home alone, this is a great choice for a spy camera. They may party the night away blasting the music at your house while you are out, but they won't get away with it!
Maybe you prefer Barbra Streisand or Frank Sinatra, and that's fine too... The boom box plugs into the wall to power the radio, DVR and the camera. Upon your return from a dinner date, or drinks with a friend, you can view your recordings by using the included RCA cable to connect to your TV or computer or insert the included 8GB SD card into your computer.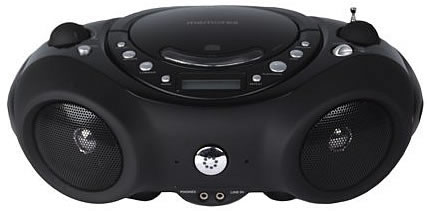 This radio spy camera features motion-activated recording that starts as soon as motion is detected. With motion-activation, you won't have to fast forward through hours of uneventful recording. Also has Motion Detection Area Masking. For example, if you have a dog or cat and don't want it to set off the motion detector, you can mask the lower quarter of the field of vision so it does not detect their movements.
•HC-BMBOX-DVR Color Camera With Built-In DVR
FREE 8GB SD-CARD Included
DVR features include:
•Motion activated and scheduled recording
•Motion Detection Area Masking
•Time and date stamp
•Remote Control operation
•MPEG4 file format
•Composite video out
DVR Specifications

Color Camera Specs

•System: NTSC/PAL
•Storage Media: SD Card
•Frame Rate: 30 fps at 320x240
or 12 fps at 640x480
•Codec: MPEG4-SP ASF
•Power Required: 12 Volts

•Image Sensor: 1/4" CCD
•Resolution: 380 Lines
•Min. Illumination: 1 Lux
•Lens: 3.7mm Wide Angle
•Power Required: 12 Volts
DVR Record Time

Resolution


640x480
320x240

Frame Rate


12 FPS
30 FPS

High Quality


8 hrs
16 hrs

Med Quality


48 hrs
96 hrs

Low Quality


72 hrs
144 hrs
Shipping Deal


Receive FREE UPS Ground or US Mail shipping on all orders of $75.00 and up!
*US Residents only
Join Our Mailing List
We send out Specials and Discounts to those on our mailing list.
Your privacy is kept safe.