Memorial Day Sale - 15% off Today through Tuesday May 28th!
Order NOW and get a FREE Pepper Spray with your order!

---
Police Stun Guns
Police stun guns are those devices used by police officers in the line of duty that completely incapacitate their subject. You've seen them on TV and you've seen them in the news.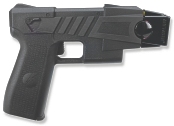 This picture above is similar to what the police carry with them on their duty belts. This self defense device is actually called a TASER® device; not just a stun gun.
These highly effective police stun guns can stop a person in their tracks.
The main difference between a TASER device and a stun gun is that a TASER weapon will incapacitate someone from a distance, and a stun gun is a direct contact weapon. A direct contact weapon must come in physical contact with the person to be effective.
Although the model above has been discontinued by TASER International INC, civilians can obtain a version that is just as effective as previous generation models. The new model is call the TASER C2 and is designed specifically for the civilian population.
The TASER C2's fits perfectly in a purse or on a belt so they're easy to carry. They are lightweight and you barely even know it's there...until you need it.
Folks, this is the best self defense piece of equipment available to you as a civilian. You can not get a better model. You can not get a more powerful model. There simply isn't anything out there that even remotely compares to this weapon.
This is not marketing hype. It's simply the truth.
In it's strictest sense, police stun guns are specifically the model that our law enforcement people carry. However, direct contact weapons are often referred to as police stun guns guns too when they really are not. They work but you have to force contact on the person in order for these to work.
These are also effective self defense weapons in a direct contact form:


All orders are shipped within 1-2 business days by the method of shipping chosen when checking out. Please read our Shipping Policy for full details.
Be assured that your shopping experience is completely safe. The order site is secured using a SSL Web Server Certificate which encrypts all data to and from the site. You can be assured of the security of your information to buy or purchase with confidence.
Free Shipping


Get FREE Standard Shipping if your order is over $49.00!
*US Residents only

Join our Mailing List
We send out Specials and Discounts to those on our mailing list.
Your privacy is kept safe.