Memorial Day Sale - 15% off Today through Tuesday May 28th!
Order NOW and get a FREE Pepper Spray with your order!

---
Sets of Throwing Stars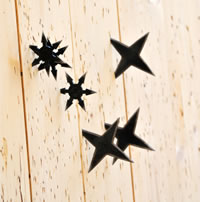 These authentic steel ninja throwing stars (shurikens) are an ancient weapon of choice used to inflict damage and injury from a distance. Accurately throwing these shurikens were a hallmark of the Japanese Ninja.
These are fun to practice with and sharpen to your ninja skills.
You can click on the individual throwing stars to go the specific page for more information about them and to buy these sets. All of the shuriken on this page are for sets. We also have a category of individual stars.
If you need to spruce up an edge, a small file may be used to sharpen or resharpen your stars.
The 12 packs of medium weight throwing stars are great for practicing your throwing technique without damaging your more expensive throwing stars. The sets of four ninja stars are sharp and should only be used after gaining experience with these types of martial arts weapons.
Ninja throwing stars or shurikens are a lot of fun to practice with. You can make a contest out of seeing who can stick the star into the smallest grouping or see who can hit center of the target most consistently. Check out the ninja board below so you have something to aim for.
These are dangerous weapons and should be treated as such!


All orders are shipped within 1-2 business days by the method of shipping chosen when checking out. Please read our Shipping Policy for full details.
Be assured that your shopping experience is completely safe. The order site is secured using a SSL Web Server Certificate which encrypts all data to and from the site. You can be assured of the security of your information to buy or purchase with confidence.
Free Shipping


Get FREE Standard Shipping if your order is over $49.00!
*US Residents only

Join our Mailing List
We send out Specials and Discounts to those on our mailing list.
Your privacy is kept safe.