Equipped with the built in bright LED flashlight you will never be left in the dark again. Slender and compact in size, (just 4 inches tall) it provides discrete protection and a convenient flashlight. To prevent accidental discharge it is also equipped with a safety switch.
The IMMOBILIZER 5,500,000 volt Cell Phone Stun Gun
The Immobilizer is available in pink, and is rechargeable, so no need to worry about batteries. A stylish holster is included for easy carrying, or just slip it into a purse or pocket.
Dimensions are 4" x 2" x .75". Lifetime Warranty.
Why Cellphone Shock Devices Make Good Self Defense Weapons
Stun guns disguised as cell phones are some of the most effective tools for self defense. First of all, they are very easy to use. No one needs prior knowledge or training to stick one against their assailant. Second, they are very effective, which is the reason why law enforcement officers favor police stun guns as a tool for non-lethal takedowns. Third, these types of products come in compact sizes that can easily be passed off for something else or concealed somewhere safe.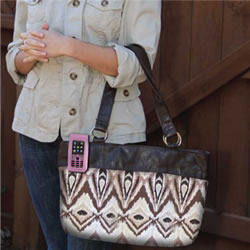 What makes a mobile phone such an amazing defensive tool is that people will never see it coming. People just treat these as a cellphone. It's not perceived as an immediate threat, which will make it difficult for attackers to get out of the way or deflect the attack.
Violence isn't something society tolerates, so as a means of self defense, electro shock devices are one of the best tools you can have in your arsenal.
Some states have restrictions on Stun Devices. Check if your state has restrictions here: Shipping Restrictions

Customers Who Purchased This Item Also Bought
Shipping Deal


Receive FREE UPS Ground or US Mail shipping on all orders of $75.00 and up!
*US Residents only
Join Our Mailing List
We send out Specials and Discounts to those on our mailing list.
Your privacy is kept safe.